Three-legged sheepdog Jack wins farm dog of year award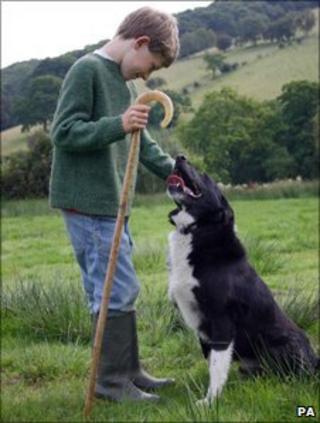 A sheepdog who is still working despite losing a leg has rounded up an award as farm dog of the year.
Jack lost his rear right leg in an accident last year but still pulls his weight on Ian and Ruth Rees's Powys farm.
They entered him in the canine competition run by the National Farmers Union (NFU).
NFU Cymru president Ed Bailey said the judges were impressed by Jack's tenacity and battle against adversity.
The Rees family sent in a photo of Jack and explained in 150 words why Jack should be named top dog in the competition.
They told how Jack has suffered a serious leg injury last year resulting in the amputation but had recovered well enough to carry on working.
Mr Bailey said: "The competition was open to all shapes, sizes and breeds of dog and we were absolutely inundated with entries.
"They included runner-up Kim the collie from Essex and Reg who, at 22 years old, is something of a legend in the village near Exeter where he still works.
"But it was Jack who overwhelmingly won over the panel of judges.
"This is a dog who has certainly seen his fair share of adversity following his accident last year but who has bounced back to his hard-working, irreplaceable best."