Gavin and Stacey fan plans run from Billericay to Barry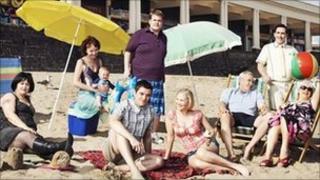 A fan of TV comedy Gavin and Stacey is planning a 210 mile (338km) charity run between the two main locations featured in the hit BBC show.
Richard Kell will run from Gavin's home town of Billericay in Essex to Barry Island in the Vale of Glamorgan, where Stacey and her family live.
Mr Kell, 40, from Hertfordshire, said it would take about four days to complete the distance.
He said he was looking forward to a beer and ice cream on Barry beach.
"I started running for [armed forces charity] Help for Heroes about 18 months ago and ended up running 26 marathons last year for the charity," said Mr Kell, whose brother-in-law served in Afghanistan.
"I was interested to try to do something a bit different this year. I was sat in a traffic jam on the M4 just before Christmas and I'm a big fan of the Gavin and Stacey show, and I was thinking it would be quicker if I got out and walked.
"The idea blossomed from there."
Mr Kell, a bank worker, said watching re-runs of Gavin and Stacey, which was broadcast from 2007 to 2010, was helping keep his spirits up.
"I watched a couple of episodes last night on BBC Three," he said.
"Actually, it all helps - it helps keep a smile on my face because it's a long old way [to run]!
"I visited Barry for the first time last Monday and had an ice cream on the beach and it was wonderful."
He will start the run on 27 May and aims to finish on 30 May.
Gavin and Stacey followed the romance of Barry girl Stacey, who falls for Essex boy Gavin and was initially broadcast on BBC Three.
Due to its popularity over its three series, it moved to BBC Two and, finally, BBC One.
It featured Mathew Horne as Gavin and Joanna Page as Stacey, and made major stars of writers Ruth Jones and James Corden, who played Nessa and Smithy.
Rob Brydon also starred in the show as Uncle Bryn.