Swansea woman's widower welcomes Osama Bin Laden death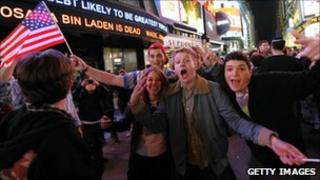 The widower of a woman from Swansea killed in the 9/11 attacks has welcomed the death of Osama Bin Laden.
But Charles Wolf said he expected "revenge attacks" following the killing of the al-Qaeda leader in Pakistan.
Mr Wolf, whose wife Katherine died in the bombing of the Twin Towers in New York, joined other victims' relatives to celebrate on Monday at the site.
Mr Wolf told BBC Radio Wales: "I found myself getting more and more excited and it's like I felt my body tingling."
He said the feelings of 9/11 families were "mixed".
"For some people it's really reopened some wounds and brought up the pain again and for others they're relatively pleased," he said.
"Nothing's going to bring Katherine or any of the other folks back. There's no changing that but he got his just desserts."
Asked if the celebrations by Americans were over the top, Mr Wolf argued that they were fitting after what had happened to the country.
"Absolutely not, not for America... we really felt that we had been taken down and I think it was inside a lot of people's hearts," he said.
"By getting this guy we had wonderful peaceful celebration. This was heartfelt happiness that was happening for the American public."
Asked if the world was any safer due to the demise of the Al-Qaeda leader, Mr Wolf said there was a "risk of retaliation".
"I don't think the celebrating has anything to do with it. It's the fact that we got him and we killed him.
"I think revenge attacks are likely to be attempted."
But he argued that the world was a better place without Bin Laden.
"This is going to change the equation," he said.
"There's a huge amount of evil energy that's been removed from this planet."