Assembly candidates 'woeful' on women issues says group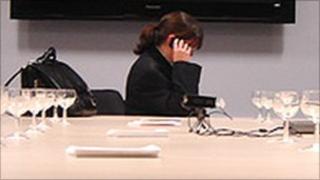 A UN-based women's group has criticised the lack of response by candidates in the Welsh assembly election to its open letter raising gender equality issues.
The Wales Assembly for Women asked every candidate standing on 5 May about their commitment to women's interests.
So far, fewer than 10% have responded.
Describing the response as "woeful", Wales Assembly for Women chair Adele Baumgardt, said: "Why aren't potential candidates really engaging with 52% of this voting population?"
She added: "We know that women's votes very often make the difference for political candidates."
Ms Baumgardt said the responses, or lack of responses, had to be seen in a wider context.
She told BBC Radio Wales's Sunday Supplement: "We see quite a dismantling of what's been fought for and attained over the last 40 years of feminism in terms of women's representation and getting the women's voice on the policy context.
"There's this concept that feminism has been done, women've got everything, there's no glass ceiling any more - all of which I would refute quite strongly.
"But there is a wider lack of acceptance that taking a generic, equality approach towards policies and the political context will do the job for women. Actually what we know is that it won't.
"There needs to be a distinctive, feminist, gender, sex-equality agenda in policy."
'Calm down, dear'
Last week a row broke out after David Cameron told the Shadow Chief Secretary to the Treasury Angela Eagle to "Calm down, dear" during a bad-tempered exchange at Prime Minister's Questions in the Commons.
Ms Baumgardt said the incident was symbolic of a wider debate.
She said: "It's one thing to say it's political correctness gone mad - we all ought to be able to take a joke and that's all it was meant to be - and then there's our prime minister standing in Westminster using that kind of language about women, as a tool to put them down, and demean them and take focus away from what they are trying to say."
The Wales Assembly of Women is a non-governmental organisation accredited to the Economic and Social Council of the United Nations.