Prince William returning to Anglesey post after weekend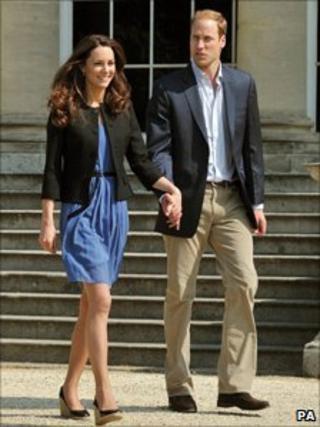 Prince William is delaying his honeymoon to return to his duties as an RAF search and rescue helicopter pilot on Anglesey.
The prince and his bride, the Duchess of Cambridge, left Buckingham Palace by helicopter on Saturday morning.
But it was later revealed they will spend the weekend privately in the UK before he returns to his search and rescue job at RAF Valley.
Their future honeymoon will be overseas, it has been confirmed.
Over 2.600 people turned out to see the couple's Westminster Abbey wedding on a giant TV screen at the Mona showground a few miles from the RAF airbase on the island.
Because the prince's fellow crew members were attending the ceremony a relief crew flew a search and rescue helicopter over the cheering crowd as part of the event.
Details of the prince's work patterns are never made public but the official royal wedding website confirmed the couple - who were given the titles Duke and Duchess of Cambridge by the Queen on their marriage - have "chosen not to depart for a honeymoon immediately".
The statement added: "The duke will return to work as a search and rescue pilot next week."
Earlier this month Prince William spoke of his work as an RAF rescue helicopter pilot, to coincide with his grandmother, The Queen's, visit to his base at Valley.
International media interest in the island where the royal couple have set up their first home together has intensified since news of their engagement late last year.
The prince's posting to RAF Valley is set to last another two years.