Boy, 12, in rubber ring rescued mile off Gwynedd coast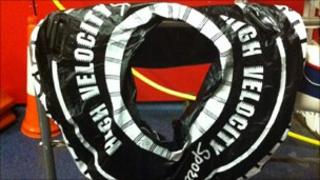 A 12-year-old boy was airlifted to hospital after being rescued by a lifeboat crew a mile out to sea swimming in a rubber ring.
The youngster was spotted drifting off Shell Island, near Barmouth, Gwynedd on Friday evening.
Criccieth RNLI lifeboat crew said the boy was close to falling unconscious because of hypothermia.
He was brought to shore where the RAF Valley, Anglesey, rescue helicopter flew him to Ysbyty Gwynedd in Bangor.
Holyhead coastguard said the alert was raised at 2015 BST. The boy was initially thought to be adrift in a rubber dinghy.
As well as calling out the lifeboat and the rescue helicopter, the coastguards alerted the Harlech coastguard rescue team.
Keith Allmark, of Criccieth RNLI station, described the danger the boy was in before his rescue.
"The crew said that in another 20 or 30 seconds, he would have gone under. He would have drowned.
"It was not long before his body was starting to close down. He would not have been able tread water for much longer.
"If we had not got there at that time, it would have been a much more serious incident."
A coastguard spokesman said: "He was lucky that he was spotted. He was quite a way off."
"He was just playing about when he drifted off. He had been in the water for 45 minutes by the time the lifeboat got to him."
The boy was taken to hospital at 2120 BST. He is said to be making a good recovery.