Royal wedding: Anglesey leads celebrations across Wales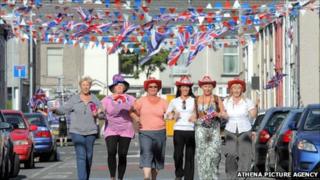 Anglesey has led the royal wedding celebrations in Wales, after 2,600 people gathered to watch the televised ceremony near Prince William and his bride's adopted home.
The Mona showground was one of several sites staging big-screen events.
Communities across Wales are celebrating with street parties and festivities.
In addition, the wedding ring, order of service and royal harpist at Buckingham Palace came from Wales.
The biggest open-air event at Mona saw the ceremony relayed to the crowd a few miles from the prince's search and rescue base at RAF Valley.
A cheer went up from the crowd as the bride stepped out of the car and she could be seen properly for the first time.
Penelope Cooper travelled from her home on the Belgium-Germany border, picking up her daughters, Charlotte and Jennifer, in Edinburgh on the way.
She said she wanted to come home to Anglesey to watch the wedding and soak up the atmosphere with her mother, Averil Bentley.
"I couldn't watch the wedding in Belgium" she said.
The 2,600-strong crowd cheered and clapped as the couple exchanged their vows.
Jewellery firm Wartski, which was founded in Bangor and later moved to Llandudno, created the wedding ring Prince William placed on Miss Middleton's finger.
The ring was fashioned from a piece of Welsh gold given to Prince William by The Queen.
The order of service was printed in strict secrecy in Merthyr Tydfil.
The programmes were handed out to guests in Westminster Abbey and also sold on the street, with any money raised going to one of Prince Harry's charities.
More than 600 Welsh Guards were also busy after a 0400 BST start for ceremonial duty in London.
As well as performing in marching bands, a number of guardsmen acted as "guards of honour" lining the streets to the palace.
L/Sgt Che Jones, of 1st Battalion, said his family in Ruthin, Denbighshire, were proud of his role in the big day.
He has been in the Guards for 12 years and served in Bosnia, Kosovo and Iraq and regularly goes on duty in the Queen's Guard.
Meanwhile, little-known composer Paul Mealor had his work, Ubi caritas, performed at the wedding service.
At the reception at Buckingham Palace, the newly-weds were welcomed by music from royal harpist Claire Jones, 26, from Crymych, in Pembrokeshire.
Tiggy Pettifer, nee Legge-Bourke, the former nanny to Prince William and Prince Harry from Crickhowell in Powys, saw her son Tom act as one of two page boys.
Rugby stars Gareth Thomas and Martyn Williams attended the wedding as guests of Prince William, a patron of the Welsh Rugby Union.
Among the dignitaries present were the presiding officer of the Welsh assembly and his wife, Lord and Lady Elis-Thomas, and First Minister Carwyn Jones and his wife Lisa.
Representing Welsh churches were the Archbishop of Wales, Dr Barry Morgan and the Reverend Gareth Morgan Jones, President of the Free Church Council of Wales.
Prince William also invited colleagues from his base at RAF Valley on Anglesey: Wing Cdr Steven Bentley, Sgt Keith Best, Sqn Ldr Paul Bolton and Wing Cdr Kevin Marsh - the man who taught him to fly
Sgt Keith Best said the experience of being in the abbey with his royal colleague was "very surreal". He said: "William is certainly a very lucky man.
"It was such a contrast and it was amazing to be part of."
As the new Duke and Duchess of Cambridge left Buckingham Palace after their reception, in a classic open top Aston Martin with "JUST WED" on the number plate, RAF colleagues flew overhead a yellow Sea King rescue helicopter like the one the prince flies when on search and rescue missions from Valley on Anglesey.
The captain was Squadron Leader Holly Steel, from Hamilton, New Zealand, and her co-pilot was Flight Lieutenant Lee Turner, from Weymouth, Dorset, who was the prince's flight commander during his search and rescue training.
The winchman on the flight was Sergeant Lee, from Wrexham.
Around half of an estimated 200 street parties in Wales were taking place in Cardiff and Rhondda Cynon Taf.
After their honeymoon, the royal newly-weds will return to Anglesey, where they have made their first home.
However, not everyone was keen on watching the royal events unfold in London.
More than 100 people from Cardiff made a trip to Oakwood Park, Carmarthenshire, to take to a rollercoaster to avoid the day's media coverage.