Libyan doctor from Swansea in mercy mission to Misrata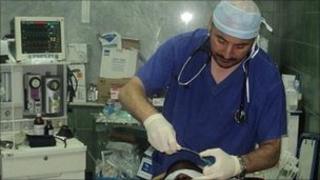 A doctor has spoken of how he spent a week helping injured civilians in his native Libya after travelling from Wales.
Anaesthetist Dr Khalid Hanish, 40, who works at Swansea's Singleton and Morriston hospitals, was trying to save the lives of blast victims in Misrata.
He journeyed by air and sea for two-and-a-half days to the besieged city.
He said: "You can die at any time, in an accident or in your sleep - so I wasn't afraid of death."
Dr Hanish has worked in Swansea for 12 years, but has siblings and a large extended family in Libya.
He said he had to help after discovering the scale of the conflict, and heard mortar attacks while performing surgery.
He said: "My greatest fear was getting captured by Gaddafi's troops.
"As a Libyan-born doctor rather than a British-born doctor, I would have been held and probably tortured. So getting captured was my only real worry."
His journey began with a flight to Malta from the UK, and then on to Libya on a supplies boat. He found the main Misrata Hospital closed, and a small private hospital was opened for free to treat casualties.
"It wasn't really equipped for treating blast victims," he said. "It had three main theatres and two small theatres and 50-60 beds maximum. Staff were working around the clock."
He said he took part in three or four separate operations, some lasting up to six hours.
He said the injuries he witnessed were "horrendous", with victims ranging in age from 18 months to about 80.
He returned to the UK last week after travelling under the "umbrella" of the International Medical Corps.