Guardian's Cardiff blog 'experiment' to end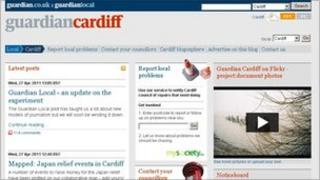 A year-long project by the Guardian newspaper to develop a community news internet site in Cardiff is to be wound up.
The local 'blog' site will close, along with ones in Leeds and Edinburgh over the coming month.
The newspaper said the "experimental" projects were "not sustainable".
But the decision has been met with anger among supporters, who have described the move as "untimely" and "disappointing".
The Guardian set up the local blogs in early 2010, appointing staff in the three target cities, including Cardiff.
The newspaper described its staff as "beatbloggers" - combining traditional journalism with social media, and focusing on engaging in community issues.
But on Wednesday, the newspaper announced on its website that it had taken the decision to close down the project.
"The local project has always been experimental in both concept and implementation," wrote the paper's head of digital engagement, Meg Pickard.
"We've learned a lot from the beatbloggers.
"We have also learned from the local communities who got involved with telling their stories. And using this we have continually refined our approach over the past year.
"Unfortunately, while the blogs have found engaged local readerships and had good editorial impact, the project is not sustainable in its present form."
'City buzz'
The announcement has been met with a barrage of criticism on the paper's own website.
"I feel the Guardian Cardiff website has made a real impact on the society around Cardiff with it and its content creating a buzz around the city" stated Lee Smith, a Cardiff blogger who writes under the moniker DJ Leekee.
On his own blog, he continued: "I feel the way local news was gathered and then distributed on the net was really ground-breaking.
"I'm not your typical 'Guardian reader' (if such a thing exists) but did feel compelled each day to check out what was happening in my local area via the Guardian Cardiff Website."
The chair of Cardiff's Civic Society, Peter Cox, has also criticised the decision, and taken a campaign to save the Cardiff site to the Twitter social networking site.
"I'll be more than sad to see it go," he said.
"I will be angry and very disappointed with the Guardian."
"The Guardian Cardiff really shook up the commercial and non-commercial news sectors in the city.
"I think there are a whole number of people in the new Welsh media sector in particular who owe their jobs to this site."
There were also comments left on the Guardian's blog pages, including one from a Leeds which said the city's blogger had been an "ambassador for community and local journalism".
Another from Edinburgh praised the micro-site, which it said had "seamlessly enhanced local bloggers and news sites, so that instead of competing, gave the impression of working alongside them".