Body implants recycled for death-related charities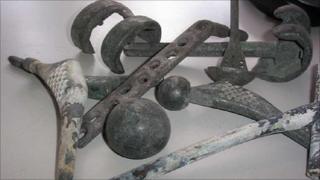 These pieces of metalwork may look like they were used to keep a barn door in place, but they had much more personal application for those who once wore them.
They are orthopaedic implants, like the thousands surgeons insert into patients every year to hold battered, broken and failing bodies together.
The reason these have a less than pristine look about them is because, like their former owners, they have just been through a furnace.
They were recovered, by hand, from the ashes of the cremated.
That is just the start of a process that raises thousands of pounds every year for charities that deal with some aspect of death and bereavement, as well as helping to improve recycling rates.
Nearly half of the 258 public and privately owned crematoria in England and Wales are signed up to a scheme that recovers metals, including gold and silver, from the finely reduced remains of the departed.
Adopted in 2007, the project asks permission from those mourning their loved ones for metals left after the cremation process to be recovered.
Previously, any metal left in the cremation ash was buried with the ash in gardens of remembrance
It was not particularly "green" nor sustainable.
Since then, a total of 10 metric tonnes has been collected.
Of this 3.5 metric tonnes has come from medical implants and 5.6 metric tonnes from screws and nails from the coffin.
The remaining 0.2 metric tonnes is from other debris and dust.
The scheme is modelled on one developed in the Netherlands by an orthopaedic surgeon who wondered what happened to the hundreds of implants he put in to patients every year.
Tim Morris, chief executive of the Institute of Cemetery and Crematorium Management, said: "It's taken several years to get going, but it has been well received.
"It's not the sort of thing that you can easily promote to the general public who aren't suffering from a loss.
"People who have suffered bereavement and have seen cremation would know."
Families are entitled to have the metal back, but rarely ask for it.
Mr Morris said that in his experience, only two families had ever asked for the metal left over from their loved one's cremation to be returned to them.
The first was a Sikh family who wanted to reclaim the metal from a ceremonial dagger and the second was a family who quickly sent it back.
Eight of Wales' 12 crematoria are signed up to the scheme.
With metals returning a rate of £12.50 per kilogram, the latest round of collections earned £125,000 for 15 charities in Wales, England and Scotland.
All the charities are somehow related to death and its aftermath.
Wales' share since 2007 is £43,750 with one of the recent beneficiaries, the Cardiff branch of Survivors of Bereavement by Suicide, receiving a cheque for £8,333.
Spokesperson Sarah Moore said: "It is clearly a very worthwhile and innovative scheme and it is nice to think that relatives are prepared to allow the recycling to take place in order to benefit others."