Shock collar found on pet dog roaming on Vale beach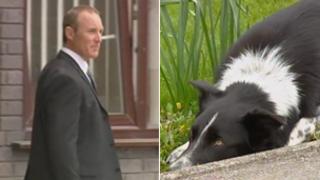 A man has pleaded guilty to using an illegal electric shock collar on his dog in the first prosecution since Wales banned the devices last year.
Phillip Pook, 48, from Ogmore-by-Sea, Vale of Glamorgan, denies he had been warned the collar, which emits an electric shock to the dog, was illegal.
Bridgend magistrates heard the collar was on his border collie found roaming on a beach near its home in December.
The case was adjourned until another hearing in July before sentencing.
The court was told the collar emitted its electric shock when the dog wearing it went near to a specific fence.
Magistrates were also told that the dog, which kept escaping, was known at a local kennels as "the dog with the shock collar".
They heard it was discovered around the neck of the dog found on the beach.
The prosecution told magistrates that Mr Pook had been warned last April that these sorts of collars were now illegal in Wales although they are allowed in England.
Mr Pook denies having been told that collars like these were illegal in Wales.
The prosecution pointed out a High Court appeal against the ban by the manufacturers of electric shock collars November last year failed.
The court was informed Mr Pook had purchased the collar online six months before the ban came into effect in Wales.
Mr Pook will reappear in court in July.