Search for Alfred Russel Wallace's 19th Century letters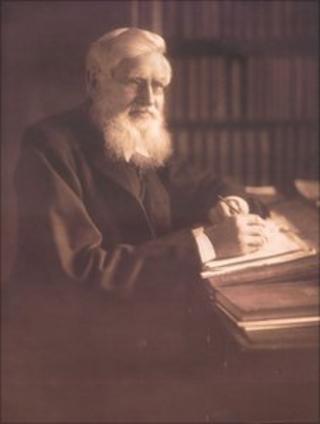 Scientist Alfred Russel Wallace, who proposed the theory of evolution by natural selection with Charles Darwin, corresponded with the great and good of 19th Century society.
His correspondents included some of the most significant politicians in recent British history, and celebrated authors and poets.
David Lloyd George, William Gladstone, Rudyard Kipling, George Bernard Shaw, Arthur Conan Doyle and Darwin himself are on the list.
An ambitious project aims to track down all the 4,000 to 5,000 surviving letters, catalogue and summarise them online and, where possible, include scans.
There is a deadline of 2013, the centenary of Wallace's death.
Dr George Beccaloni, curator of insects at London's Natural History Museum and director of the Wallace Correspondence Project, said: "It's a very impressive list of people.
"He corresponded with a high proportion of all the famous people in Britain during his lifetime."
Dr Beccaloni said Wallace's correspondence was a "very important resource for historians and scholars for learning about his life and work".
"The bulk of the letters are at the Natural History Museum where we've got 1,200 letters either to or from Wallace, and the British Library which has 1,700 letters."
He said about 2,000 letters were spread across the libraries of about 100 western institutions.
Wallace, who was born in Monmouthshire and also lived in Neath, was the co-discoverer of the theory of evolution by natural selection.
This says that the "fittest" animals or plants are more likely to survive and reproduce.
Although this idea is often solely attributed to Darwin, it was in fact first published in a scientific article by both scientists, printed in August 1858.
Darwin published On the Origin of Species a year later.
Wallace did receive recognition during his lifetime, although he was largely forgotten after his death.
Dr Beccaloni said he hoped the latest project, and the centenary, would help raise Wallace's profile.
"By making difficult-to-find information available to historians and biographers, it will hopefully lead to new interest in Wallace," he said.
"It might lead to new biographies based on his letters."
'Crowdsourcing'
While they can publish letters written by Wallace, it was a major task getting permission for those sent to him by other people, he added.
"We would like any descendants of people known to correspond with Wallace to get in touch and kindly give us permission to use the letters," he said.
The letters project is funded by a £200,000 grant from the Mellon Foundation of America.
Future plans would include employing science historians to make transcripts and include notes on, for example, animals and people referred to in Wallace's letters.
There is also talk of "crowdsourcing" where people can register, then transcribe, scans of letters which are later checked.