'Welsh NHS patients denied cancer drug funding'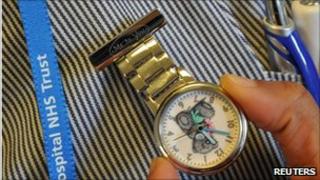 A new report claims 30 Welsh patients have been denied potentially life-prolonging cancer drugs on the NHS.
A further 91 had to apply for funds for treatment recommended by a doctor using "exceptional case procedures" as it was not routinely available.
The figures have come to light under Freedom of Information requests by the Rarer Cancers Foundation (RCF).
The charity is calling on the next assembly government to improve access to treatment.
The report by RCF, Exceptional Cymru?, claims there are currently 22 drugs which are not available to patients in Wales but that doctors in England can apply for on behalf of patients.
It said the 30 Welsh patients were denied funding for treatment between October 2009 and December 2010 after the NHS "refused to pay for drugs which could have prolonged their lives".
They had made their application to their local health board which pays for NHS treatment on their behalf.
However, the report found approval rates for "exceptional case applications" is significantly lower in Wales (67%) than Scotland (87%).
It called the system "restrictive", claiming it is deterring doctors from applying in Wales where they are six times less likely to make an exceptional case application than they are in Scotland.
RCF chief executive Andrew Wilson said: "The NHS should be there when you need it the most, but this is sadly not the case for all cancer patients in Wales.
"Access to treatment should be based on clinical need and not a lottery based on which side of the border you live.
He said the report provided proof that patients in Wales are being denied treatments which they would get elsewhere in the United Kingdom.
Mr Wilson callled on the assembly government to look at the evidence and "act now to fix this broken and unfair system."
'Exceptional circumstances'
Cancer treatments may not be routinely available to patients in Wales due to a number of circumstances.
A Welsh Assembly Government spokesperson said "all new drugs deemed clinically and cost effective" by NICE (National Institute for Health and Clinical Excellence) or AWMSG (All Wales Medicines Strategy Group) "are made available on the NHS.
"Where these drugs are not approved, or are waiting approval, mechanisms are in place to ensure consistent access for patients in exceptional circumstances.
He added that the assembly government said the next administration will consider the report's finding and recommendations.
The Routledge Report - commissioned by the assembly health minister - was published in March 2009 with 11 recommendations aimed at improving the availability of medicines for people in Wales.
The RCF report, Exceptional Cymru?, makes 20 recommendations, including calling on the next Welsh Assembly Government to "publish a report on the progress made in implementing Professor Routledge's recommendations and how they intend to build on this".