Ex-Bryn Seiont hospital in Caernarfon arson inquiry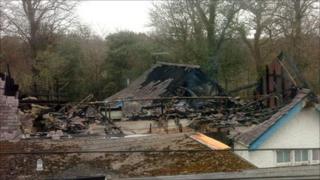 Fire investigators say a blaze at a disused hospital in Caernarfon was started deliberately.
Firefighters were called to the former Bryn Seiont community hospital in Pant Road at 2120 BST on Monday.
A fire service spokesman said the blaze caused 100% damage to an area of the hospital 20m by 10m, including a corridor and an annexe building.
Care home company Pendine Park, which owns the site, said the damage would not affect its plans for the building.
Chief executive Gwynfor Jones said: "We would like to thank the fire service for their quick response and their excellent work in containing the fire.
"We are making a full assessment of the damage today but it will not affect what we are hoping to do at Bryn Seiont."
The last patient was moved from the hospital in 2004 although some clinics continued at the site afterwards.
It sold by the Betsi Cadwaladr University Health Board to Pendine Park in 2009.
Confirming that the blaze was started deliberately, the fire service said it was working alongside North Wales Police in a bid to halt attacks such as this.
Terry Williams, the community safety manager for Gwynedd and Anglesey said: "Deliberate fires are a serious form of anti-social behaviour and this will not be tolerated.
"North Wales Fire and Rescue Service is working closely with the police and other partner agencies to try and eradicate the problem.
"Deliberate incidents put extra pressure on fire and rescue resources.
"Whilst crews are busy dealing with these incidents, there could be a real need for the resources to attend a life threatening situation elsewhere in the county."