Labour hoping for 'comfortable majority' at election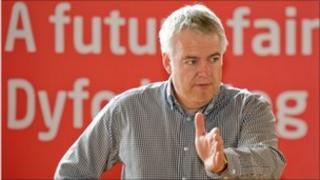 A majority of seats in the Welsh assembly is within reach for Labour on election day, Carwyn Jones has said.
At Labour's first weekly press conference of the campaign for the election on 5 May, he said the party was taking nothing for granted.
But based on the feedback Labour had received, he said a "comfortable working majority" was possible.
Labour would go it alone to form a single-party government in Cardiff Bay if it wins 31 out of 60 seats, he said.
Speaking at his party's Cardiff headquarters, the Welsh Labour leader said: "There are at least seven of them (seats), we think, possibly eight, that are in play.
"We have been very pleasantly surprised in the response we are getting in seats such as Preseli Pembrokeshire, such as Clwyd West, and Llanelli as well.
'Government territory'
"What we have found is that based on the response we are getting in a number of seats across Wales that getting a comfortable working majority is in our grasp.
"But we have got to work for it. Nothing is being taken for granted."
Asked what constituted a majority, he said "an arithmetical majority".
"If we have 31 AMs we will try to form a government," he said.
"If we get a majority of one, a majority of two, a majority of three then that's government territory."
Labour will officially launch its campaign on Thursday and publish its manifesto on 14 April.
Labour formed a coalition with Plaid Cymru after the 2007 election. It had enough seats to form a majority government in less than two of the first 12 years of the assembly's life.
Labour's key pledges include the creation of 500 police community support officers, and making it easier for people to see their GP in the evening and at the weekend.
Plaid has attacked Labour's handling of the economy and accused it of failing to fight for more public funding for Wales.
Plaid's Carmarthen West and South Pembrokeshire candidate Nerys Evans said: "Labour's record when governing alone demonstrates that it cannot be trusted to be left to its own devices in running Wales.
"Wales cannot afford another decade of decline under Labour."
Liberal Democrat south west lead candidate Peter Black said: "No one in Wales will be fooled by the war of words between Labour and Plaid or their sham divorce.
"The joint leadership of Labour and Plaid Cymru has left Wales with a weak economy, underfunded and underperforming schools and an NHS that costs more but delivers less.
"It is a truly dismal record of failure in the most important areas for the people of Wales."
Meanwhile, the Conservatives were in Colwyn Bay to highlight their proposal for an Armed Forces Card.
It would entitle serving and former personnel to free bus travel, swimming, access to historical sites and priority to NHS treatment for service-related injuries.
Welsh Tory leader Nick Bourne said: "Our armed forces are in action all over the world serving this country and it is time for us to do what we can to make their lives a little bit easier both while they are on leave in Wales and after they complete their active service."