Lap dancing 'sleaze' opposed by Cardiff arcade owners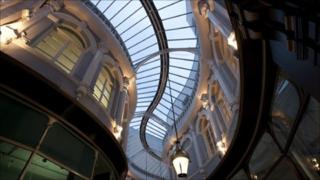 The opening of two more lap dancing clubs in Cardiff risks ruining efforts to promote the city centre, say the owners of the Royal and Morgan Arcades.
London-based property firm Helical Bar has complained to Cardiff council that the clubs are synonymous with "sleaze".
The company has spent £30m restoring the arcades and opposed plans for a new club on St Mary Street.
But councillors meeting on Tuesday agreed licence renewals for two clubs and applications for two new licences.
Since 2010 local authorities in England and Wales have had powers to license lap dancing clubs as sex establishments, with Cardiff charging £2,510 for each licence.
For Your Eyes Only in Church Street and Fantasy Lounge in St Mary Street won a renewal of their annual licences.
Public protection committee members also agreed to give annual licences to Blue Velvet, also in St Mary Street, and Blue Diamond, in Mill Lane, although their opening times were restricted to 6pm.
Helical Bar said it did not object to the lap dancing club in principle - it has previously had one in its commercial portfolio elsewhere in the UK - but did not believe the location, a former casino - to be suitable.
Morgan Arcade dates from 1896 and is described as the best preserved of Cardiff's arcades, with some first-floor Venetian windows and original wooden storefronts.
The Royal Arcade, dating back to 1858, is also home to a number of independent, specialist shops.
It was following the opening of the new St Davids shopping centre and John Lewis department store in 2009, that it was decided to increase the marketing visibility of the arcades.
'Negatively affect'
John Inwood, head of asset management, said he found the council's decision "a confusing statement".
He said: "We have committed a very significant sum of money to the renovation of the arcades and are steadily building a very positive retail profile by renewing leases with our long established retailers and attracting exciting new independent and national retailers.
"Trying to remain dispassionate about matters, would contend that the majority of people will see this juxtaposition as far from ideal.
"This is after all a prominent entrance to an historic retail environment, attracting a principally family orientated footfall, in a street that the city are also investing millions to improve its physical environment."
The firm's letter of objection to public protection committee read: "Strip clubs and related venues are synonymous with areas of sleaze and their presence can negatively affect the perception of the locality. This in turn contributes to the fear of crime and disorder.
"The fear of crime can become a self-fulfilling prophecy, as levels of activity (other than that directly associated with the establishment) decrease as people seek to avoid the area."
But the committee heard a lengthy rebuttal of its claims from solicitor Matthew Phipps, acting for For Your Eyes Only,
He said that South Wales Police's insistence that any new premises were run by the owners of the two existing clubs was almost an "endorsement" of the firms' suitability.
He said the first-floor location of the proposed Blue Velvet club, with a single door leading from St Mary St, was "perfect" and that only one of the four fire escapes led to Morgan Arcade, and that was only at one end.
However, he said the club would agree to a later, 6pm, opening time to accommodate Helical Bar's concerns about a possible conflict with shoppers, although it did not accept that claim.
Glenn Nicie, director of For Your Eyes Only, said the licensing decision was "fair".
He said: "It's a tidy business that does not affect the people around it."
A spokesman for South Wales Police said lap dancing clubs were not a cause of policing concern compared to other venues in the city centre.