Pigeons threatened in Pembrokeshire loft planning row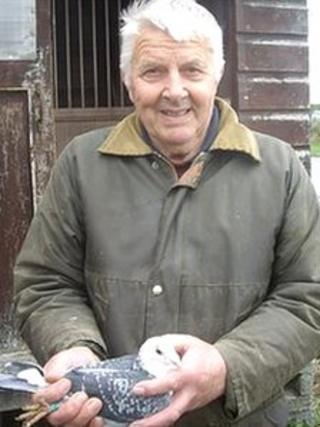 A pigeon fancier fears he could be forced to destroy some of his racing birds after planners objected to the location of their home.
Roy Davies, 73, has been refused retrospective planning permission for his pigeon loft at Dinas Cross, in the Pembrokeshire Coast National Park.
Villagers have mounted a petition protesting against the decision.
The national park says the loft is against planning policy but Mr Davies has a right to appeal their decision.
The retired farmer, who has been racing pigeons for more than 40 years, moved the 18ft (5.5m) by 8ft (2.4m) pigeon loft into his field at the edge of the village near Newport when he sold his nearby farm and retired five years ago.
He told BBC Wales: "My pigeons are my life - I've been at it for years. You get hooked on it, it's a wonderful sport.
"This is the pigeons' home and they will fly hundreds of miles to come back to their babies and their nest box.
"Somebody would have to kill the pigeons because I'm not going to do it. Who is going to do it?"
Several years after moving his loft, Mr Davies was told he needed planning permission, so he submitted a retrospective application which was supported by his county councillor and his local community council.
But Pembrokeshire Coast National Park refused it, a decision which has prompted local people to rally in support of Mr Davies.
A petition is circulating and has the support of Steve Taylor, a local garage mechanic.
He said: "It seems a ludicrous case of planning law- it's a piece of agricultural land, the actual pigeon loft is the size of a caravan and it's tucked away in a corner, nobody can really see it from the road or anywhere else.
"There's a general feeling that the national park don't listen to local people and that if there's a £1m development, it will get built and if you want to put a porch up at the front of your house it will get turned down."
A National Park Authority spokesperson said that if Mr Davies had asked for guidance before putting up the loft he would have been advised it was against adopted policy and created a "potentially dangerous access" which the Trunk Roads Agency has objected to.
"The committee was made aware of the applicant's unauthorised development in August 2010 and resolved to take appropriate enforcement action to remove it."
Mr Davies could still appeal, the spokesperson added.
In Pembrokeshire around three quarters of planning applications are dealt with by planning officers rather than committee members following central government criticism over delays.
Mr Davies said: "I appreciate the support I'm getting and we are fighting this the best we can.
"I intend to stick it out to the end."