DeltaStream tidal power Pembrokeshire trial approved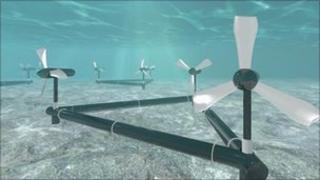 A tidal power scheme designed to generate electricity for 1,000 homes in Pembrokeshire has been approved for a 12-month trial.
The 1.2MW project at Ramsey Sound, near St Davids, features three generators that sit on a triangular frame.
Invented by Pembrokeshire engineer Richard Ayre, the project has more than £500,000 in EU grants.
The DeltaStream device project has landed consents from both the UK and the assembly government.
Cardiff-based Tidal Energy Ltd claims its tidal generator is at the cutting edge of green technology, with three separate horizontal axis turbines mounted on a common triangular frame.
Each turbine has a 15m diameter rotor which turns in the tidal flow and can also turn with the tide, generating electricity on both the ebb and flood tides.
The firm said the device would be easy to manufacture, does not require drilling or piling into the seabed and would have a minimum environmental impact.
Planning approval has been granted by Pembrokeshire Coast National Park Authority for the onshore works.
The firm said the turbine would be assembled locally in order to provide jobs and a boost for the local economy.
Managing director Martin Murphy said: "This is the first consented tidal stream project in Welsh waters and we are honoured to be at the forefront of the tidal energy industry in Wales.
"Following a successful 12-month technical and environmental test of the device, we will look to develop a pre-commercial array in 2014.
"We are grateful for the support and positive engagement of the community in Pembrokeshire and the consultees involved in the consenting process."
The development came as plans were submitted for underwater turbines for a tidal energy farm off the coast of Anglesey.
The £70m project by Marine Current Turbines (MCT) and RWE npower Renewables has been three years in the planning and aims to generate enough electricity to power 10,000 homes on Anglesey.