Wrexham Council bans 'sensitive' Cameron-Clegg artwork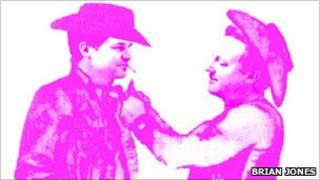 A piece of art depicting David Cameron and Nick Clegg dressed as cowboys, and partially naked, has been banned amid fears it is politically sensitive.
Wrexham Council said the print, which was to be featured at its gallery Oriel Wrecsam, was "inappropriate" in the run up to May's Welsh assembly elections.
Aritst Brian Jones, from near Welshpool, Powys, said the ban amounted to censorship.
But the council said it had to follow strict guidelines prior to an election.
The art work depicts the Prime Minister and his deputy wearing cowboy hats, jackets and boots, but they are not wearing trousers.
Mr Jones, who is originally from Liverpool, said his work, called Brokeback Britain, was taken from the hit film Brokeback Mountain, a story of a secretive relationship between two gay cowboys.
But he said it was not meant to be party political, and he was just "trying to raise a smile".
Brokeback Britain was to have been displayed at the Wrexham Print International 2011 exhibition.
Alan Watkin, chief leisure, libraries and culture officer at the council, said: "In the run up to an election the authority has to follow strict guidance issued by central government.
"As the work of art in question was a satire on two political parties contesting the National Assembly elections it would be inappropriate for it to feature in the show."
Mr Jones said he knew it was a "challenging image", but he was disappointed.
"It's censorship, there's no two ways about it," he said.
"It's not party political, I'm not on a mission to topple the (UK) government, it's just the backdrop to what's going on with job losses, prices going up and cuts.
"I was just trying to raise a smile in the midst of all this."
Mr Jones said he was inspired after hearing the expression Brokeback Britain.
"It's (the phrase) taken from Brokeback Mountain, although I've never seen the film," he added.