Daniyal Shahzad to be deported to Pakistan after lies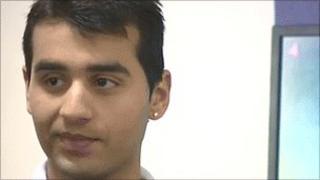 A teenager will be deported to his home country of Pakistan after lying about his past in a bid for UK residency.
Daniyal Shahzad, 19, won public support in a campaign against his deportation from Carmarthenshire.
But it later emerged that he had lied about his identity, falsely claiming his name was Ahmer Rana.
The Home Office said the UK Border Agency and courts both decided he had no legal right to stay in the UK and must return to Pakistan.
He is being held in custody at a Cardiff police station and will be taken to a detention facility before being returned to his home country.
Jane Farleigh, regional director for the UK Border Agency in Wales, said both it and the courts have fully considered Mr Shahzad's case and came to the same conclusion - he has no legal basis to remain here and must return to Pakistan.
"The UK Border Agency decided some time ago that Mr Shahzad had no valid claim to remain in the UK. The courts backed that decision on three occasions, while new evidence which appeared in the media supported the agency's conclusions.
"When people are here illegally and refuse to leave the country voluntarily, we will remove them."
Mr Shahzad, has lived in Wales since 2008, moving in with foster parents John and Lesley Hillard in Nantycaws, Carmarthen.
'Let people down'
His foster parents have said they were stunned by the admission, but they were standing by him.
When his deception was revealed in February, he apologised and said he was under pressure to send money home to Pakistan.
He said at the time: "I know I let people down, people in school, my teachers, my friends and especially my foster family.
"My purpose was my family's future - I wanted a better life for myself and my brothers and sisters."
A student at Queen Elizabeth High School, he had claimed he had no family in Pakistan and feared his missing parents were dead. He had also claimed he was 18, and not 19.
But after supporters presented a 4,000-signature petition against his deportation to the Home Office, his story unravelled.
Mr Shahzad had hoped to be able to stay and finish his A-levels, and had appealed against a judge's decision that he did not need the protection of the UK against the persecution he claimed he faced in Pakistan.