Obesity and alcohol misuse costs NHS £140m in Wales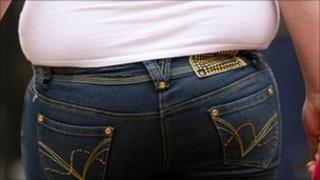 Obesity and excessive drinking are costing the NHS in Wales more than £140m each year, according to research.
The Swansea University study warned the true cost of both could be even higher.
Those at the sharp end dealing with the effects of alcohol and obesity say they are growing problems, and affecting people at a younger age.
Chief medical officer Dr Tony Jewell said both were "preventable health issues" and people had to take responsibility for their own actions.
The research, commissioned by the assembly government, put the cost of obesity to the NHS in Wales at £73m and excessive alcohol consumption at between £69.9m and £73.3m.
This works out as between £25 and £29 a person in Wales for obesity and about £24 a person for alcohol.
Prof Ceri Phillips, who was involved in the study, said it was likely about 3% of NHS Wales spending, increasing to 10% if smoking is included, could be "attributed to the additional demands placed on NHS Wales as a result of lifestyle behaviours".
"Wales continues to have high levels of alcohol abuse, obesity and other lifestyle behaviours relative to other countries, despite the efforts and successes of organisations to address behaviours that have major implications for people's health," he said.
Researchers said excessive drinking and obesity needed to be tackled in a "cost-effective" way at a time of pressure on NHS Wales budgets.
The study looked at factors such as hospital admissions, GP consultations and prescription costs attributable to alcohol misuse and obesity.
Dr Jewell said this was the first time for such an estimate.
"In addition to legislation and pricing mechanisms people need to understand the health and social risks that come from the choices they make and take responsibility for their own health and making informed lifestyle choices," he said.
"People rightly expect the NHS to be there when they get ill, but we need to reinforce the message that they also need to help the NHS by taking responsibility for their own actions."
Dr Eamon Jessop, a GP from Prestatyn, said there was a need to educate the public on the issue via the media.
But he added: "We can't come down top-heavy, constantly saying to patients: 'We are taking on your problem for you'.
"If the patient has a problem and comes to us we'll give them all the help in the world, but ultimately it's they who have got to make that first step."
Specialist dietician Sioned Quirke, who works in the NHS in Wales, said: "It [obesity] is such an overwhelming problem. I see people who are obese but also people who are super-morbidly obese.
"We're seeing teenagers with type two diabetes which is normally the late onset diabetes [most common in older people] because they're overweight - their organs can't cope with the fat they're carrying.
"We're seeing it younger and younger and it's horrifying."
The Welsh health survey in 2008 said 21% of people in Wales were obese and 57% were either obese or overweight.
Excessive drinking has also long been a concern in Wales where about one in four say they binge drink.
Wynford Ellis Owen, chief executive of the Welsh Council on Alcohol and Other Drugs, said: "We have to really look at the underlying problems here."
He said drinking culture was about "avoiding the burden of being human" but children had to be taught that life was also about feeling sad sometimes.
"I think more money needs to be spend on better parenting - it's about teaching children to grow up... and how to deal with problems," he added.