Dogs survive Southerndown 150ft cliff plunge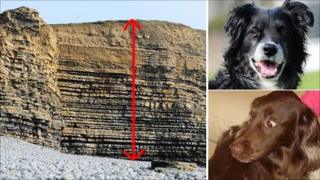 Two dogs out chasing rabbits have survived a fall from a cliff about 150ft (46m) high on the south Wales coast.
Sasha and Moby are expected to make a full recovery after going over the edge.
Owner Lyndsey Rudd said she was horrified when they disappeared at Southerndown, Bridgend county and was sure they would be killed.
Mrs Rudd, who is from Oxford, said: "It is a miracle that they survived."
She was out walking her pet Sasha and friend Dannii Thomas' dog Moby while visiting her parents.
"One minute they were just walking along, playing and chasing each other," she said.
"All of a sudden they both just bolted off towards the cliff, they must have seen a rabbit or something.
"We heard screams from below from walkers on the beach and looked down and saw the two dogs.
"Sasha was laying motionless on the rocks and Moby limped his way towards the sea."
Mrs Rudd's husband Matt scrambled down the cliff while the two dogs were being cared for by a couple on the beach.
He was helped to carry the pets to his car and the couple rushed them to a vet for a check-up.
"I was certain they would have both died - it is a miracle that they survived falling so far," added Mrs Rudd.