Edwina Hart opens £4.2m kidney transplant centre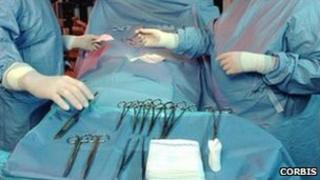 Up to 70 more kidney transplants could be carried out in Wales with the opening of a £4.2m centre with 21 beds, the assembly government says.
The unit at the University Hospital of Wales was opened by Health Minister Edwina Hart.
It could increase transplants from 90 to 160 a year by 2012, depending on organ donation rates.
The minister has defended plans for "opt-out" organ donation, despite concerns from the UK attorney general.
Mrs Hart has told AMs that she expected the next assembly to pass the legislation for a change in Wales' organ donation system, given cross-party support for the idea.
The purpose-built transplant centre includes 11 single en-suite rooms and three four-bedded rooms.
Mrs Hart said the centre will increase the number of kidney transplants that can take place every year.
She added: "A new kidney will dramatically improve the quality of life of individuals and will mean they will no longer have to spend hours - and in some cases days - a week having kidney dialysis."
David Francis, Cardiff and Vale University Health Board chairman, said: "This facility provides excellent care for patients requiring kidney and pancreas transplantation and surgery relating to their mode of dialysis care.
Figures until February show that 885,000 people [29.9%] in Wales were on the organ donor register, with 304 people waiting for an organ transplant.
An assembly government spokesman said the centre's aim was to increase the number of transplants in Wales, provided enough were available.