TrawsCambria gets £2.2m for cross-Wales bus service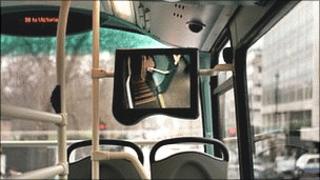 The TrawsCambria bus network through Wales is to receive £2.2m for new buses, it has been announced.
Deputy First Minister and Transport Minister Ieuan Wyn Jones said the money was a first step to building a cross-Wales long-distance bus network.
The network will be renamed TrawsCymru as services on existing routes are improved and 12 new buses are added.
The Bwcabus network will also receive £350,000 to extend services in the Tiefi valley area of west Wales.
The changes to the bus services are due to be implemented by March 2012.
'Fully accessible'
Launching the investment, Mr Jones said: "This will be a truly green service, using low emission engines... it will have an attractive and easily understood pricing and ticketing structure.
"It will be fully accessible to all in the community, including the provision of wheelchair accessible coaches."
The 12 new low floor buses will have low emission engines, coach-style seating and increased luggage space.
The TrawsCambria network serves both short and long distance journeys and is used by approximately 500,000 people a year.
The five routes on the network receive an annual subsidy of £720,000.
In a 2010 consultation, TrawsCambria users said access to toilet facilities, extra leg room and extra luggage space were the most important improvements needed to the service. A large majority of users also supported the introduction of more express services between major centres.