Robert Tear, acclaimed Welsh tenor, dies aged 72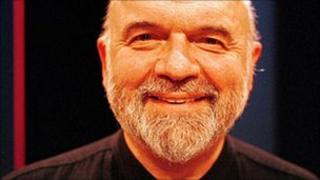 Welsh tenor Robert Tear, who appeared at opera houses around the world, has died aged 72.
He made his final singing performance at the Royal Opera House, as the emperor in Turandot, in 2009.
Tear, who was born in Barry in the Vale of Glamorgan, started as a chorister at King's College, Cambridge.
Fellow tenor Ian Bostridge said Tear, who appeared on more than 250 recordings, had "cast iron technique" and "great intelligence as a singer".
"I sang with him, particularly in The Rake's Progress in Munich at the beginning of this century," he said.
"He was incredibly compelling on stage. I was playing Tom Rakewell while he was playing the auctioneer and I'm quite glad we didn't have a scene together because he'd have stolen that scene completely."
Tear performed as a schoolboy in a Welsh National Opera performance of Cavalleria Rusticana in 1946 at the Prince of Wales Theatre in Cardiff.
He made his operatic debut for the English Opera Group in 1966 when he performed the role of Quint in Benjamin Britten's The Turn of the Screw.
He enjoyed a long association with the Royal Opera House in London.
His agent Martin Campbell-White said Tear, who was awarded a CBE in 1984, was marked out by a "variety of abilities".
"He was a major, major European and world artist who had a fantastic varied career, starting as a chorister at King's College Cambridge and quickly becoming one of Britain's great oratorio singers, and moving into opera," he said.
Despite his achievements, Tear was said to have been a down-to-earth character.
"He shunned the publicity and he was the first person to put himself down," added Mr Campbell-White.
"Incredibly witty, he could deflate pomposity with just one joke or one witty comment."
'Inspiration to many'
Tear was an honorary fellow at the Royal Welsh College of Music and Drama (RWCMD), and King's College, Cambridge.
Hilary Boulding, principal of RWCMD, said: "We were saddened to hear of Robert Tear's death.
"He was an inspiration to many artists in the profession and, given his role as a fellow of the college since 1994, for our students too.
"He was part of a generation of Welsh singers who have helped establish Wales' international reputation."
His management company, Askonas Holt, said that "as well as being one of the world's leading tenors, he was a polymath, being a great author, poet, painter and raconteur".
He and his wife Hilary recently celebrated their golden wedding anniversary. He also leaves two daughters, Becky and Lizzie, and grandchildren Fred and Harry.