AMs demand Wales Audit Office £750,000 pay-off inquiry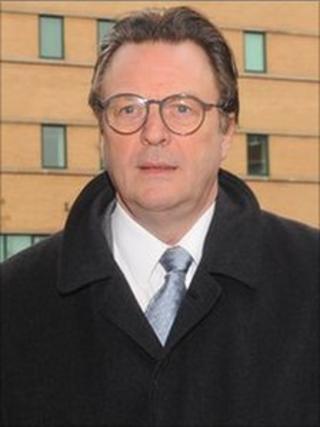 Police should investigate the actions of the ex-Auditor General in dealing with a colleague's £750,000 severance package, a committee of AMs says.
The public accounts committee says Jeremy Colman "deliberately misled" the Welsh Assembly.
However, the Wales Audit Office says the chances of a successful prosecution are slim, and it now wants to move on.
Colman was jailed for eight months for possessing indecent images of children last year.
He pleaded guilty to the charges, having already resigned from his job.
However, AMs have since been examining other aspects of his time as head of the WAO, including the way a retirement package for a former chief operating officer was negotiated and accounted for.
The committee confirmed the £750,000 pay off for Anthony Snow was legal and fully within civil service rules.
But it said Colman sought to conceal the pay off from all but a tiny number of people, and had he still been in office, they would have recommended to the Queen that he be removed from his post.
The AMs said: "The gravity of this action should not be underestimated".
The fact that pension payments to Mr Snow were not in the WAO's annual financial statements led to them breaching government accounting standards.
The committee will ask South Wales Police to investigate whether other actions by Colman amounted to criminal behaviour.
It is also highly critical of tens of thousands of pounds spent on executive coaching for both Mr Colman and Mr Snow, without any evidence of business cases being prepared or records of outcomes from the courses. All were personally authorised by the former Auditor General.
Committee chairman Darren Millar said: "It is with great regret that we have had to consider these matters and we believe they are largely due to the actions of one person who decided the high standards and expectation required for the position of auditor general did not apply to him.
"The reputation of the Wales Audit Office, a body charged with ensuring value for public money, has been severely damaged and it is to the credit of the present Auditor General, Huw Vaughan Thomas, that he is tackling these painful problems head-on in order to restore public confidence.
"My committee colleagues and I believe that a question remains as to whether aspects of Mr Colman's conduct could be considered criminal and that this question will remain unanswered unless an appropriate authority reviews the evidence we've received.
'Important milestone'
New Auditor General Huw Vaughan Thomas said there is only a "slim possibility" of further criminal prosecution and he is focusing on rebuilding public confidence in the office..
He said: "This thorough report effectively draws a line under a period of necessary, but difficult, public scrutiny of the Wales Audit Office in the wake of the resignation of Jeremy Colman.
"I have since put in place robust arrangements, in line with the committee's recommendations, to ensure that the 2010-11 accounts are prepared in full accordance with accounting standards.
"The report as a whole clearly shows that we have reached an important milestone in restoring full public confidence in the Wales Audit Office."
The Wales Audit Office is independent of government and is responsible for the annual audit of some £20bn of annual public expenditure.