Baroness Newlove's 'people power' safer streets ideas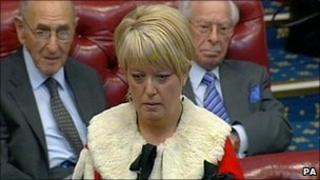 A baroness who champions victims' rights has put forward ideas for a "people power revolution" on crime.
Lady Newlove was made a peer by Prime Minister David Cameron after her husband Garry was killed when challenging youths outside their home.
Merthyr Tydfil is one of the areas she visited to try to help tackle local crime and anti-social behaviour.
But local Labour councillor Chris Barry said he was "sceptical" about the project being picked up across the UK.
Helen Newlove, who is the UK government's champion for active, safer communities, spent time in the Park and Twyn wards in Merthyr researching a report on how community activists can share their best ideas.
Garry Newlove was murdered in August 2007 by youths near the couple's home in Warrington, Cheshire.
In Merthyr, Lady Newlove met people who have helped make a difference in the area, saw what works there and what problems prevent successful community activism.
She has also worked with communities in Stockport in Greater Manchester, Havering and Hackney in London, Wakefield in West Yorkshire, Shepway in Kent, and Southampton.
Her report, Our Vision for Safe and Active Communities, makes recommendations on how residents, businesses and police can join forces to combat anti-social behaviour.
The report says small actions can help make a big difference, like residents planting flowers outside their homes to improve the environment or carrying the shopping upstairs for an elderly neighbour.
Merthyr has also been given £15,000 to get community action going with the money to go on projects approved by the community.
Lady Newlove said she hoped to change the way UK communities approach activism and build happy, safe neighbourhoods.
"This report sets out how we can change things by empowering local communities to reclaim their streets," she said.
She said everyone had a role to play, that communities needed to begin to take more responsibility, and local agencies should begin to lessen their grip on decision making and trust people to solve problems for themselves.
'Big appetite'
"In the past six months I have seen good people make a fantastic difference, and I am especially impressed with the work I have seen in Merthyr Tydfil," said the baroness.
"I know there is a big appetite out there for volunteering and making a real difference."
Jan Palmer, who started a residents' and Neighbourhood Watch group in Merthyr Tydfil, said: "We still have lots more to achieve in Merthyr Tydfil and I'd like to see many more people here involved in local activism.
"People may be surprised that the smallest thing can make such a big difference."
Mr Barry, a councillor for Merthyr's Park ward, commented: "I'm sceptical about it. It's part of the Big Society project from the government.
"However, I always welcome any money coming into the ward. And I'm pleased with the way that the project has been handled by the community.
"I hope it works but nationwide I cannot see volunteers taking over in the way envisaged by Baroness Newlove.
"I have my doubts there will be be a nationwide pick-up on this."