Lake Vyrnwy fir takes Wales' tallest tree title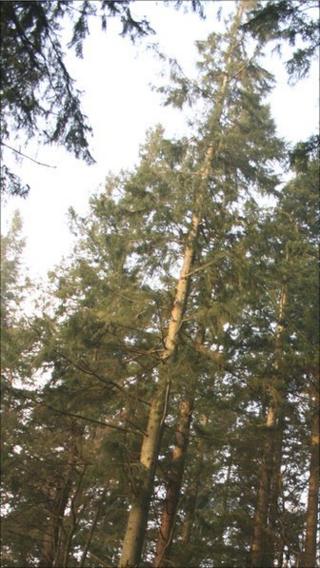 A tree at a Powys beauty spot has been declared the tallest in Wales, only a few weeks after the previous title holder was felled for safety reasons.
The 60.6m (198ft 10in) Douglas fir at Lake Vyrnwy is a neighbour of its predecessor, which was 63.7m (208ft 11in) and was jointly the UK's tallest.
The previous champion was taken down earlier this month after falling victim to stormy winter weather.
The new record holder was confirmed by the Tree Register of the British Isles.
Wales' second tallest tree, a grand fir standing at 60.5m, is also in Powys at Leighton Hall, near Welshpool.
The huge 23,000-acre (93 sq km) Lake Vyrnwy Estate, near Llanwddyn, is in the process of being sold, and is popular with walkers and cyclists.
Forestry Commission Wales area manager Mike Whitley said: "It was a sad moment seeing the previous tallest tree in Wales being felled.
"However, it took only two days to confirm its successor, which is another Douglas fir that happens to be growing right next to the previous tree, so we didn't have to look very far."
The tree was measured by Stuart Clarke of Treefellers, the same arboricultural company that felled Wales' previous tallest.
The new record was confirmed by David Alderman, director of the Tree Register of the British Isles, who said: "This tree is one of only seven in Wales believed to be at or around the 60m mark.
"At 60.62m, it is currently the tallest tree in Wales, with the second tallest being a 60.5m grand fir at Leighton Hall, near Welshpool."
Stormy conditions left the previous record holder leaning to one side, with two large cracks.
It had shared the UK record with a Douglas fir near Dunans Castle in Argyll.