Community care after brain injury in Wales 'patchy'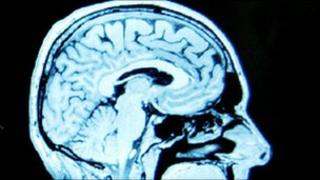 Specialist care for people in Wales with a brain injury is patchy, say doctors, workers and health campaigners in neurological rehabilitation.
Care for head injury patients outside Cardiff and Swansea has an "element of postcode lottery," they say.
BBC Wales current affairs programme Taro Naw was told west Wales and the south-east valleys have no dedicated community brain injury services.
Brain injury charity Headway has called for more consistent care for patients
Dr Jenny Thomas, a consultant at Cardiff's Rookwood Hospital, a specialist neurological rehabilitation centre, tells the programme she was concerned that specialist care in the community for patients after a head injury varies from area to area.
She said: "Outside the major urban areas like Cardiff and Swansea we have to see what is available, so there is an element of postcode lottery."
"I wouldn't say that care for patients is any worse in those areas, but we certainly have to keep patients in hospital for longer than we would if there were specialist teams in their areas."
Dr Thomas also warned that the system was leading to a degree of bed blocking.
She said: "Because of the variation in services we keep some patients in longer than is really necessary.
"We are trying to move people through the system as quickly as possible and sometimes this means that other people waiting for a bed can't get one."
Clive Davies, who helps to run the Swansea branch of Headway, said people in the city were lucky to have the traumatic brain injury service based at the city's Morriston Hospital.
He said: "But there's no specialist community service to the west of Swansea. The boundary ends at the Loughor river and people living in west Wales have nothing."
Other campaigners on the programme said that north Wales was served by only one team offering dedicated community brain injury services, based at Colwyn Bay.
Taro Naw is on S4C on Monday March 28 at 2130 GMT.