£4.7m boosts Cardigan Castle after 10-year battle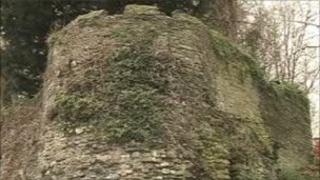 Tourism plans to conserve a medieval castle which was once home to Welsh princes have taken a major step forward after a 10-year battle.
A £4.7m Heritage Lottery Fund (HLF) grant will go to conservation work and new facilities at Cardigan Castle.
The money will also go to work on the historic grounds and gardens, which are home to rare trees and an endangered bat species.
The aim is to increase visitor numbers from 3,000 to 30,000.
The Friends of Cardigan Castle say the Normans built the first wooden castle on the site, but in 1165 the Welsh prince Lord Rhys ap Gruffydd conquered it and demolished it.
He built a new stone and mortar castle, and in 1176 invited bards and musicians to celebrate, an event which became known as the first eisteddfod in Wales.
Cadwgan Building Preservation Trust has been working since 2001 to conserve the castle.
It has been working with owners Ceredigion council on a joint lottery bid for the last three years to turn it into a major tourist destination.
The castle gardens, which were not landscaped until the early 19th Century, are registered by Welsh monuments agency Cadw.
Restoration plans include an events area and a croquet lawn which will tell the story of the eisteddfodau.
Buildings will be house a museum, and heritage learning centre in a converted stable block, craft workshops, shop, cafe and self-catering holiday accommodation.
Chair of HLF in Wales, Dan Clayton Jones, said: "This project will make the castle created by princes fit for the people of Wales and open it up for visitors to explore."
He said the development would help benefit the local economy and 12 full-time jobs would be created."
There are also plans to create a digital community archive about the castle and the town of Cardigan.
Nicola James, acting head teacher at Ysgol Uwchradd Aberteifi, said the developments meant a "very exciting time" for pupils in experiencing their local history.
'Rightful place'
"In Year 7, our pupils study medieval Wales and complete an entire module of work on castles."
Cadw has already contributed £400,000 to repairs and conservation at the castle, which has an early 19th Century house inside the medieval walls.
Prince Charles has lent his support to the restoration and it also featured in the BBC's Restoration programme in 2004, but failed to make the final.
Heritage minister Alun Ffred Jones said the funding would "make such a difference in taking forward the plans for the castle".
Jann Tucker, chair of Cadwgan Building Preservation Trust, said there was still much to do but the grant would kick-start the bid to restore Cardigan "to its rightful place in Welsh history".
She added: "This is a significant day, not just for the preservation of one of Wales' most important historical and cultural landmarks, but also for the legacy it leaves for current and future generations to enjoy".