New Gwent chief constable warns of 350 job losses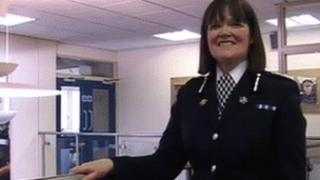 The new chief constable of Gwent Police says up to 350 jobs could go as part of a new drive to make £22m savings.
On taking up her post on Friday, Carmel Napier admitted the force is facing "tough and challenging times".
But she pledged to keep neighbourhood policing at the centre of officers' focus, while improving crime detection rates.
Anti-social behaviour and disorder concerns will also be a top priority for officers.
Chief Constable Napier takes over the role from retiring Mick Giannasi after her promotion from deputy chief constable of the all Wales team.
Her police career has already taken her to the Hertfordshire, North Yorkshire and Essex forces.
She will oversee a new collaboration between Gwent and South Wales Police, which will see them sharing certain key services such as ICT, to save money.
'De-layer management'
Speaking to BBC Wales, she said: "The sad aspect will mean some officers and police staff may lose their jobs - our budget predictions are we will need to lose around 350 posts in total.
"We will make those savings by working jointly with South Wales Police to deliver many specialist services which will give us increased capacity, capability and resilience, de-layer management in both forces and save administrative support in two separate organisations."
From 1 April both forces will share an overall director, a director for their legal services, human resources and training department and a shared operational lead - assistant chief constable Matt Jukes - for the specialist crime directorate.
But the forces will also be developing plans which could see their media and corporate communications departments merged in the future.
However, Mrs Napier said she would not be diverting her officers from the sort of low-level crime that can blight communities and added that the force currently has about 2,500 less victims of crime than it did for same period last year.
"I have a clear vision and direction - Gwent Police will be about neighbourhood policing and doing what matters for the community.
"I'll do all in my power that I can to still continue to sustain the neighbourhood policing at the levels we currently have.
"For me policing is about keeping people safe and providing that protection and reassurance.
"Reduction of anti-social behaviour, nuisance and disorder concerns from the community will be our priority.
"With serious crime and major incidents actually the force has demonstrated it can punch well above its weight, but we know by getting police officers visible and accessible, smiling, speaking and putting service at the heart of everything they do right out in the community we can achieve better results."
She added that she had already been involved in a major change programme, increasing Gwent's officers to 1,473 from about 1,200 three years ago, while reducing 200 staff posts and making savings of £11.6m.
But she did warn that few areas apart from neighbourhood policing were likely to escape the pinch in the current financial climate.
"For me everything else is up for grabs but in a slow and programmed way.
"Gwent Police has been on a diet for the last two and a half years and demonstrated it can deliver more effective services and what the community wants in a planned and measured way.
"We do know we could achieve more by addressing more collaborative and joint working opportunities."