Welsh lecturers' pay and pension strike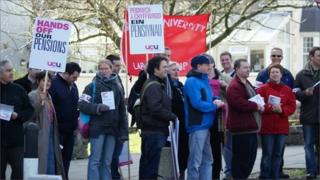 Staff at Welsh colleges and universities have joined a day of action over pay and pension changes.
The UK-wide strike involves members of the University and College Union (UCU) which has staff in both new and old Welsh universities and FE colleges.
The protests follow other walkouts at other UK universities this week over pensions.
The Universities and Colleges Employers Association said it was disappointed by the strike decision.
Union members in south Wales have been holding a rally at the Senedd building in Cardiff, following an earlier picket across Cardiff University's Cathays Park campus.
In north Wales, UCU supporters picketed entrances to the main buildings of Bangor University.
"We're out today picketing against the cuts to education. Our pensions are being attacked, our job security is being attacked and our pay is being cut," said Michael West, who has organised the Bangor demonstration.
"Most of the people here today are in the real world. Some people talk about our pension being a public scheme. It isn't - it is a private scheme and we actually pay into that, and so we feel as though we have our rights to our pension.
"We don't want to be on strike. The people here love their jobs, but there is only so much we can take. we believe strongly in what education is about - that is why we are here."
'Disappointed'
Staff at Aberystwyth University have also joined the walkout.
"For many staff, particularly those who enter the profession after 2011, the changes will result in estimated losses of hundreds of thousands of pounds of pension benefits," said a UCU representative at the institution.
The UCU said changes to the Teachers' Pension Scheme and the Universities' Superannuation Scheme would mean members paying larger contributions and retiring later.
The union said the protest was the first UK-wide strike action in universities for five years and the first in further education colleges since 2008.
The union has received the support of the National Union of Students, despite the likely disruption to their members' studies.
But Prof Keith Burnett, who chairs the Universities and Colleges Employers Association said: "Employers are extremely disappointed by UCU's decision to take industrial action.
"We look to UCU to work with higher education institutions during this period of change and challenge for all - not against them.
"There is much uncertainty in higher education at present and this course of action will have the potential to cause further difficulties for students and institutions."