Police 'could continue Ceredigion parking enforcement'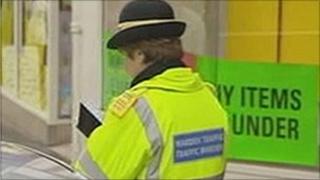 Police will have to continue to manage parking enforcement in Ceredigion for a year, the council has admitted.
Ceredigion Council is to appoint officers to enforce its new civil parking powers, but there will be a gap in the transfer.
It says Dyfed-Powys Police can issue parking tickets in the meantime.
Control is moving from traffic wardens run by police in line with other areas.
The three existing wardens' jobs are being phased out at the end of May.
In a statement, Ceredigion council said: "In the period leading up to the transfer of the necessary powers to Ceredigion County Council, Dyfed-Powys Police officers will still be able to enforce parking orders.
"The chief constable of Dyfed-Powys Police could also delegate enforcement powers to police community support officers."
The council said it understands the force has served redundancy notices on the traffic wardens to finish by the end of May 2011.
"Although there will therefore be no traffic wardens in Ceredigion between that date and the county council appointing enforcement officers, that should not mean there will be no enforcement of parking restrictions," said the council.
Two of the three traffic wardens are based in Aberystwyth, while the third covers other parts including Cardigan.
Ch Insp Rob Mason, of Dyfed-Powys Police, said: "From the 31st May the police will enforce parking restrictions as and when they are available, depending on operational commitments.
"We will also respond to any calls from the public and assist in pre-planned festivals or events.
"We will continue to work with Ceredigion Council to ensure a smooth as possible transfer of services."