Thai plane crash inquest hears how eight Britons died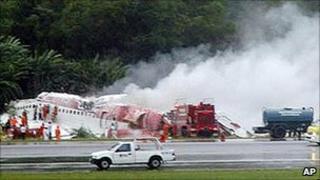 An inquest has heard how an aircraft skidded on to a runway in Thailand and burst into flames, killing eight Britons.
Ninety people are known to have died as a result of the incident on 16 September, 2007.
The crash happened when the One-Two-Go Thai aircraft from Bangkok, came in to land in bad weather at Phuket International Airport.
Couples from south Wales, Lincolnshire and Bristol were killed.
An inquest into their deaths opened at Lincoln Coroner's Court. It will resume on Wednesday when the coroner is expected to hear from an air crash investigation expert.
Bethan Jones, 22, from Porth in the Rhondda, survived the crash but died in a Bangkok specialist burns unit 11 days after. The inquest heard the cause of her death was respiratory failure due to or as a result of fumes and hot gas emitted during the crash. A secondary cause was given as burns to her body.
Her boyfriend, 22-year-old Alex Collins, from Maesteg in Bridgend county, died because of asphyxia due to burning, as well as other injuries to various parts of his body.
Susan Howell, 27, and her partner Stephen Saunby, 41, from Gainsborough, Lincolnshire, who were due to get married in Thailand, both died as a result of multiple injuries, the inquest heard.
The deaths of Neil Slater, 43, and his 31-year-old wife Helen Slater, from Scunthorpe, Lincolnshire, were also as a result of multiple injuries.
Similarly, the court heard how married couple Anthony Weston, 68, and 64-year-old Judith, from Bristol, who were planning a move to Australia, died as a result of multiple injuries.
The inquest heard from crash survivor Ashley Harrow, who described the moment of impact.
He said: "I woke up to a sort of heavy impact and then just a sort of vibration.
"It felt like, at that point, I knew something was wrong."
Mr Harrow, from Moira, Northern Ireland, told coroner Stuart Fisher he was allocated a seat next to the emergency exit for the hour-long flight.
The plane came in to land and thudded heavily on to the runway twice, Mr Harrow said, before bursting into flames.
Mr Harrow and the passenger sitting next to him, Peter Hill, managed to open the emergency exit door and escape the aircraft by jumping on to its wing and down to the ground.
A statement from Mr Hill, an English language translator for BAE, was read to the court.
He said: "The flight was OK for about 30 minutes after which I noticed quite heavy turbulence. The flight was being buffeted up and down."
Describing the landing he said: "The plane hit the ground a second time and everything started to break up.
"We hit the ground with a massive thump and everything started to break apart."
The inquest continues.