Sir Terry Matthews' 'boot camp' for Welsh entrepreneurs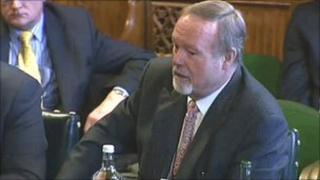 Business tycoon Sir Terry Matthews is joining forces with the assembly government to give Wales a new generation of technology entrepreneurs.
Ten graduates will initially go through a year-long business "boot camp".
The £6m project is expected to last five years, run by the not-for-profit Alacrity Foundation.
The announcement comes days after Sir Terry told MPs that Wales did not have a future unless graduates were offered more help.
"We have an excellent talent pool in our Welsh graduates and this significant investment in the Alacrity Foundation gives the teams the entrepreneurial opportunity of a lifetime," said the billionaire businessman as the new project was unveiled.
"I am delighted to be working with the Welsh Assembly Government and the other Alacrity Foundation supporters to provide a platform to create a new generation of Welsh based technology companies."
Sir Terry, whose businesses include the Ryder Cup venue the Celtic Manor Resort at Newport, said: "Alacrity will operate development programs designed to teach promising young engineering and business graduates how to build successful technology companies."
Last week, Sir Terry gave evidence to the House of Commons' Welsh affairs committee and insisted that Wales had excellent graduates.
"We have to find ways of keeping them," he told MPs.
'Touch of greed'
"They have to be in business, they have to want to be rich, there's nothing wrong with having a little touch of greed, nothing wrong in that, people have to have ambitions."
As well as offering hands-on entrepreneurial training to the successful graduates, after the 'boot camp' the participants will then be supported to setup their own technology companies in Wales.
The new hi-tech firms will get private and public cash backing, in return for a stake in the start-up businesses.
The assembly government is funding half of the project, with an investment of nearly £3m.
Deputy First Minister Ieuan Wyn Jones said: "This exciting new project is aimed at creating a new generation of entrepreneurs who will create the kind of technology companies we need to drive our economy forward.
"It is entrepreneurs who will create the jobs and prosperity Wales needs to compete on the global stage.
"This programme will put 10 graduates through their paces each year and equip them with the skills and knowledge needed to succeed."