Thousands of trees stolen in Powys and Camarthenshire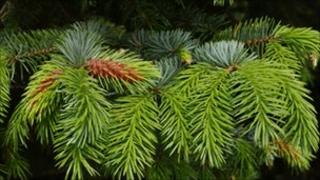 Several thousand young trees which were destined for forests in Wales have been stolen.
They were taken from woodlands in Powys and Camarthenshire before they could be planted, said the Forestry Commission.
Among the species that have gone missing are western red cedar and Norway spruce, which is also a popular variety of Christmas tree.
Officials say while it is relatively common for a few trees to be taken, it is rare for so many to disappear.
The trees were stored in secure sheds and delivered to forests for planting before being stolen.
The commission said the most of the trees were taken from sites in the Llandovery and Welshpool areas.
Meanwhile, Dyfed-Powys Police said they were investigating a theft of a large number of saplings from Forestry Commission land in Meifod, near Welshpool.
Neil Muir of the Forestry Commission said: "In the past, there have been isolated cases where a few bags have been taken, but this year there have been several thousand gone missing, which is unusual."
"This causes problems as it means more trees have to be sourced, at additional cost, which is frustrating for staff and contractors as it takes time for the replacements to be found."
Dyfed-Powys Police said the saplings stolen in Meifod were ready for planting, but were removed in their delivery bags.
The Forestry Commission said it was increasing the variety of trees it planted annually to make forests more resilient to the effects of climate change.
More than 30 species, including spruce, pines, firs, pine and redwoods, being planted around Wales.
About 14% of Wales is covered by woodlands. Of this, 38% (126,000 hectares/311,000 acres) is owned by the Welsh Assembly Government.
Mr Muir said if people saw anything suspicious they could contact the commission on 0300 0680300. People can also contact police on 101 or Crimestoppers on 0800 555 111.