Royal Wedding: harpist Claire Jones chosen to play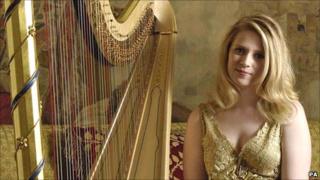 Prince William and Kate Middleton have chosen royal harpist Claire Jones to entertain guests at their wedding.
St James's Palace confirmed she has been asked to play at the wedding reception to welcome the royal couple on 29 April.
The reception will take place at Buckingham Palace following a ceremony at Westminster Abbey.
Ms Jones told BBC Wales the experience would be one she would share with her relatives in years to come.
She said: "It's a fantastic feeling and I am so honoured and so very excited I will be there on their special day.
"It will be a fantastic memory and a big story to tell my family in future generations to come.
"It is a real buzz being part of it all."
Ms Jones, who hails from Pembrokeshire, was appointed as official harpist to the Prince of Wales in 2007 and regularly plays for the royal family at their palaces.
She first performed for Prince William privately ahead of the Wales v South Africa rugby match at the Millennium Stadium in 2008.
She said she is looking forward to discussing the repertoire for the reception and expects it will include some Welsh music to celebrate the couple's current connection with Anglesey, as well as classical pieces.
She added: "This is an historic occasion and one that I know I will never forget."
The Abbey's choir and the Chapel Royal Choir will perform singing duties at the ceremony.
The London Chamber Orchestra and the Fanfare Team from the Central Band of the RAF will also take part.