Olivier Award for David Thaxton in Sondheim's Passion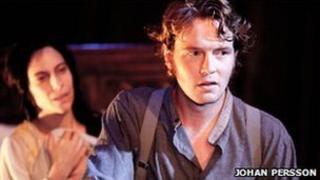 David Thaxton from Neath has been named best actor in a musical in the Olivier Awards, which are for the year's most outstanding stage performances.
He won the accolade for his portrayal of Captain Giorgio Bachetti in Stephen Sondheim's Passion.
Mr Thaxton is a former member of Cardiff choir Only Men Aloud but is now acting in London's West End.
He told BBC Wales he was "humbled and honoured" to receive the award, which he said was a "fantastic honour".
"It's a bit of a shock really, but it's a lovely thing.
"I didn't think I would win at all - it was a fantastic honour just to be nominated in the first place."
Mr Thaxton's role saw him entangled in a complicated love triangle.
Captain Bachetti, a decorated military hero, is transferred to a strange and remote outpost in the Italian wilderness.
Far away from his lover Clara, he encounters Fosca, the cousin of his commanding officer.
Mr Thaxton describes her as a "strange, sick woman" who pursues the captain.
'Immensely proud'
He said: "It's about his journey from what he thinks is true happiness and what he learns to be true happiness."
The part saw him on stage for almost the whole 108-minute performance.
He is currently playing Raoul in Andrew Lloyd Webber's Love Never Dies but remembers his time with Only Men Aloud fondly.
"I miss it. Tim and the boys, I love them to pieces. I am incredibly and immensely proud to have been part of something so wonderful," he said.
His win follows on from the Welsh successes at last year's awards ceremony, when actors Aneurin Barnard and Iwan Rheon both won awards for their roles in musical Spring Awakening.