Prostitution ring boss Thomas Carroll faces £1.9m order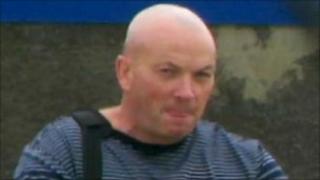 A man who ran an international prostitution ring has been told to hand over nearly £2m of his criminal profits or face another 10 years in jail.
Thomas Carroll, 49, controlled more than 35 brothels in the Irish republic and Northern Ireland from his rented family home in Pembrokeshire.
He will have to sell four Welsh houses, three South African houses and four cars, including two Mercedes.
He is serving a seven-year term for vice and money laundering offences.
Judge Neil Bidder QC at Cardiff Crown Court ruled Carroll's assets were purchased with the proceeds of crime.
His trial in February 2010 heard Carroll, from Bagenalstown, Carlow, Ireland, was the head of an organised crime gang that included his wife Shamiela Clark, 33, and his 27-year-old daughter Toma Carroll.
Clark was sentenced to two and a half years for conspiracy to control prostitution and one year for conspiracy to money laundering, to run consecutively.
Meanwhile Toma Carroll was jailed for two years for money laundering.
The Serious Organised Crime Agency (Soca) gave details of the proceeds of crime order, made in court in Cardiff.
The court heard Carroll fled to Wales to avoid prosecution when he was quizzed by gardai over his network of brothels, but continued to run his business from a rented house in Castlemartin.
Mark Philips, Soca deputy director, said: "Criminals running operations like this think they are untouchable. They exploit borders, treat people as commodities for profit and destroy their victims' lives."
The court was told their profits for one year ran to more than one million euros (£873,000) for the business run from an old vicarage in the village of Castlemartin.
Clark was responsible for a "call centre" from one room at the property, from where she co-ordinated up to 300 calls per day from clients for the all the brothels.
Prostitutes were recruited through advertisements on the internet and in newspapers while young women and girls, one aged just 15, were trafficked in to the UK from south America and Nigeria.
The court heard the women believed they were escaping to a better life, to enjoy an education or become hairdressers or seamstresses.
Many did not know that they would have to work as prostitutes to pay off their "debts", the court heard.
Some were subjected to "terrifying and humiliating" rituals involving killing chickens and being pushed into a coffin "to put the fear of death in them," the trial heard.
Granting a confiscation order for £1,902,496, Judge Bidder said: "This defendant has shown that he is prepared to squirrel away in properties abroad the proceeds of his prostitution business.
"He is a convicted money launderer. He is determined and astute."
Clark already faces a compensation order for £360,000 or she will serve a further three years in jail.