£42m made from golf in Wales after 2010 Ryder Cup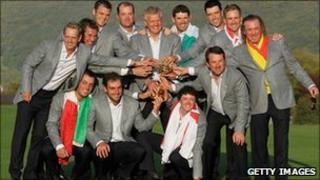 The Ryder Cup has "done wonders" for golf in Wales with money made from golfing tourists up by 21% to nearly £42m last year, a study has found.
More than 50,000 fans flocked to Celtic Manor in Newport on each of the three scheduled days of the event last October, despite heavy rain.
The increase in golfing tourism came as the total rounds played at courses in the UK fell by 5.3%.
The figures were compiled in a study for the Welsh Assembly Government.
The golf tourism research was released at the start of Wales Tourism Week, with Visit Wales saying it was important the Ryder Cup's legacy was taken forward.
Figures show that the more than 200,000 so-called golf visitors travelled to Wales last year - an increase of 9% compared with 2009.
The number of overnight visitors rose by 12%, with the average spend per person rising by £29.
The number of international overnight visitors was up, and accounted for 16% of the total golf tourism revenue compared to 11% in 2009 and 5% in 2008.
Heritage Minister Alun Ffred Jones, who is visiting Langland Bay Golf Course in the Gower, near Swansea, to kick-start Wales Tourism Week, said: "The 2010 Ryder Cup has done wonders for golf in Wales and we have used the event to provide focus for Wales' golf tourism strategy, the success of which is evident in these latest figures.
"The end of the Ryder Cup is just the beginning of another chapter for golf in Wales, the next chapter will be concerned with how we build on that legacy."
Last year was the seventh year for the golf tourism monitor, which collates data surrounding the sport in Wales.
The total expenditure from golf tourism since the monitor started is £203m, and the number of golfing visitors to Wales has increased 82% in that same period.
The Wales Golf Holiday Company, Wales' largest in bound golf tour operator, has also experienced a significant increase in business throughout 2010.
Company chairman Ian Richardson said: "There is no doubt that Wales is now a renowned golf destination and that the legacy of the Ryder Cup will increase in bound golf tourism in the years to come.
"Advance bookings for 2011/12 show a 22% increase on the previous year."
Jonathan Jones, director of tourism at Visit Wales, said the impact of the Ryder Cup on Wales was excellent news, and testament to the work put in by Visit Wales, golf clubs and others.
He said: "We have got to make sure the legacy of the Ryder Cup is taken forward. Of course it's going to be difficult because in a very difficult market."