Two Britons jailed for Cambodia child sex offences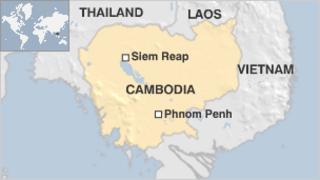 Two British men have been sent to prison in Cambodia in separate cases for child sex offences.
Matthew Harland, 38, who jumped bail in Hampshire in 2005, will serve seven years.
Nicholas Griffin, 53, of Llangollen, Denbighshire, who ran orphanages, was jailed for two years for sexually assaulting several victims in his care.
The UK's Child Exploitation and Online Protection Centre (CEOP) worked on both cases with Cambodian police.
CEOP sent officers to the Asian country after a request from the Cambodian National Police.
Peter Davies, the lead police officer in the case, said: "Two convictions in two days shows that like never before, this crime will not be tolerated, no matter where in the world you think you can go to escape capture.
"Any offender who thinks they can visit places such as Cambodia and target young, vulnerable children for sexual gratification should think again.
"These are major convictions and show the severity in which we all view this crime."
Harland went to Cambodia after failing to answer bail while on charges of possession of child abuse images.
He was arrested last year, weeks after CEOP was informed by the non-governmental organisation APLE (Action Pour Les Enfants) that he was in Cambodia. According to reports, he was living in a rented house with two young girls.
In the other case, Griffin was convicted of sexually assaulting a number of victims.
He left the UK in 2006 and founded the Cambodia Orphan Fund a year later. According to CEOP, Griffin ran "a number of orphanages in a tourist hotspot".
North Wales Police were asked by investigators to carry out background checks on Griffin, whose full name is Nicholas Patrick Griffin.
It is reported that Griffin had no previous convictions and was not the subject of a police inquiry while he was living in the UK.