Joe Dunthorne book Submarine has Swansea film premiere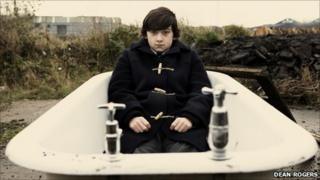 Four years ago Joe Dunthorne was one of many aspiring authors trying to get published.
But as he prepared for the Welsh premiere of the film adaptation of his debut novel, Submarine, he has proved he is no ordinary Joe.
Submarine is the comic story of Oliver Tate, a hopelessly deluded but supremely confident Swansea teenager who battles to save his parents' marriage - and lose his virginity before his 16th birthday.
As the premise of the book relies on a knowing in-joke between author and reader, Dunthorne never imagined it was something which could be translated into film.
"It wasn't as though I'd ever seriously thought about Submarine becoming a film - as my first novel, I was more worried about getting the book published first," he said.
"But as it was developing, I remember thinking to myself that there's no way that they'd ever be able to make this work on the screen.
"There's just too much unsaid in the book, which I thought would be impossible to depict on the screen."
However, Richard Ayoade, who wrote and directed the film interpretation, thought differently.
"Warp Films optioned the screen rights even before the book had been published, and asked me to write a script with a view to directing it," said Ayoade, a familiar face from comedies such as The IT Crowd and The Mighty Boosh.
Unreliability as a narrator
"Joe and I met several times and talked about what might translate well from the novel to a film.
"Much of the humour in the novel lies in the tension between what you think has happened and how Oliver is describing it.
"The question was how to do that effectively in the film.
"The idea was to keep Oliver's unreliability as a narrator but to juxtapose that with an actual reality - not just one that Oliver describes.
"I'd say the film has moved away from the book a good deal, but I hope that it's kept the spirit of the Oliver Tate character that Joe wrote."
For Dunthorne, it was important the film remained true to the book's Welsh roots.
Submarine was primarily filmed in Swansea, with other scenes set in Barry, Cardiff and various locations in Rhondda.
Oliver is played by Craig Roberts, from the south Wales valleys village of Maesycwmmer, who has also appeared in Casualty and Being Human.
'Rich inspiration'
Yasmin Paige - who plays Oliver's girlfriend, Jordana Bevan - is also no stranger to Wales, having made her name as Maria in the BBC Wales' Doctor Who offshoot, The Sarah Jane Adventures.
It also stars Sally Hawkins as Oliver's mother Jill. She has a string of film credits to her name, including Layer Cake and Happy-Go-Lucky.
"Getting Craig and Yasmin onboard, and having the majority of the filming in Swansea were for me, really key to keeping the flavour of the book," said Dunthorne.
"Because Swansea was such a rich inspiration for me writing Submarine, the sights and people and funny events of my own childhood are on every page.
"Wales in general is such a melting pot of genuinely comic people and circumstances."
Submarine has already received favourable reviews, with Sunday's Welsh premiere at Swansea University's Taliesin Arts Centre coming a week ahead of its UK-wide cinema release.
For Dunthorne it will be back to the day job on Monday as the success of Submarine has already led to a further two-book publishing deal.