Aberystwyth may shut Prince Charles's old uni residence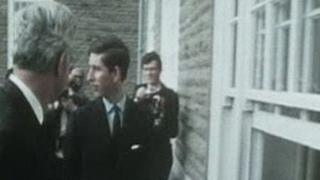 An historic hall of residence at Aberystwyth University where Prince Charles stayed as a student could be replaced by a new £45m scheme.
Pantycelyn became one of the first halls for Welsh-speaking students in 1974, but the university plans to build a new development on farmland.
It could house up to 1,000 students not just from Welsh-speaking backgrounds.
The prince was at Pantycelyn for a term in 1969, and BBC One Show presenter Alex Jones was also a student there.
The eminent Welsh historian John Davies was a warden there for 18 years.
The new self-catering accommodation is earmarked for university farmland behind the Pentre Jane Morgan student village, and building work, costing between £40m and £45m, could start in autumn 2012.
The university said the project underlined its commitment to "improving the quality of the accommodation".
University pro vice-chancellor Rebecca Davies said: "Aberystwyth offers one of the best student experiences in the UK."
She said the project was the "biggest single strategic element" of its plan, underlying a commitment to improve accommodation, with an emphasis on self-catering, en-suite rooms.
"As the process unfolds, as well as working closely with the local community and planners, the university will be engaging with student representatives to ensure the new halls provide the living experience, in terms of social and technological facilities, that future generations of Aberystwyth students will expect."
The Welsh language students' union, Undeb Myfyrwyr Cymraeg (UMCA), said it had been involved in discussions for the new halls.
'Catching up'
President Rhiannon Wade: "The university have commited to a new building which will be part of the big development.
"It will be nice to see Welsh-medium students catching up with the rest of the university in terms of quality of accomodation.
"UMCA want to ensure that the hall is fit for purpose and that the hall has all the necessary features to it that it currently has, such as a lolfa (lounge), ffreutur (canteen) and appropriate facilities for Pantycelyn choir to practice."
Plans to close Pantycelyn were first mooted in 2008. At the time there was speculation the building could be converted into offices for university staff.
Pantycelyn opened in the early 1950s, and became one of the first halls of residence for Welsh-speaking students in 1974.