Planners back Sainsbury's at Cardigan's Bath House site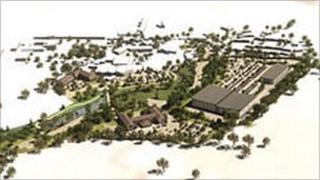 Planners have given their backing to a supermarket on the site of a controversial £50m scheme in Ceredigion.
A hospital and a GPs' surgery are also planned for the Bath House site in Cardigan, while 600 jobs could be created.
The first phase of the development started in 2009 when 48 flats for people aged 55 and over were built.
Ceredigion council's planning committee backed the Sainsbury's store.
A council spokeswoman said the development control committee dealt with an application "purely for the Sainsbury's foodstore and non-food retailing units".
She added: "The application follows the grant of outline planning permission which established the principle of the development."
The Bath House project has received dozens of objections, and has been dogged by setbacks.
It received outline planning permission in 2006 following a public inquiry in the previous year.
Extra traffic
Some people are concerned that Cardigan's road network would be unable to cope with the extra traffic generated by the development, while there are fears it could have an impact on the town's independent traders.
But developer Liberty Mercian has said the scheme is "much-needed" and would provide a "social and economic boost".
There was a dispute between the developer and a landowner over a strip of land, which was eventually resolved in 2008.
Last year, talks broke down over the sale of another piece of land for the new hospital.
The chairman of Cardigan Chamber of Commerce, Paul Oakley said: "Part of my remit is to limit the impact of the [Bath House] scheme because it's going to happen.
"I am concerned that we've heard nothing about the development of the hospital lately."
Developers Liberty Mercian have been asked to comment.