Bangor museum tells story of the naughty boys' ship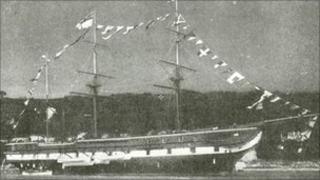 It was known as the naughty boys' ship because it tried to turn around the lives of teenage delinquents.
The Clio trained hundreds for life in the royal or merchant navy when it was moored in the Menai Strait off Anglesey from 1877 to 1920.
Now its story is being retold at Gwynedd Museum and Art Gallery, Bangor.
"It was part of local folklore," said the museum's Alun Thomas. "People would say, 'If you don't behave you'll be sent to naughty boys' ship' ".
The exhibition on HMS Clio, a naval gunship reborn as a correction vessel, runs until 17 September.
Part-funded by local people, the Clio ran an annual camp at Llandudno for the boys.
Mr Thomas, the museum's assistant curator, appealed for artefacts from people in the area whose family might have had a connection with the correction vessel, a former naval gunship.
He said: "There were similar reformatory ships dotted around coast of Britain, but the Clio was a step up from them.
He said the appeal had brought in three beams from a demolished farm building on the edge of Bangor that reputedly came from the Clio when it was scrapped.
He said: "We're still looking for the ship's bell, which we know existed around the Llandegfan area about 25 years ago.
"It was in a house which is now a nursing home but the bell is longer there."
Although few of the youths on the ship were from Wales, the exhibition features the story of David Livingstone Evans, aged 11, who was sent to the Clio in 1908 after stealing three dolls, a football and a "fancy basket" from Bangor Market.
He was kept there until he was 16.
His experience would have been as outlined by Charles EB Russell, chief inspector of reformatory and industrial schools in 1914.
He said: "The industrial training ship or school solves one of our hardest problems, for it is not a mere place of detention for people who have injured the community, but an institution which makes out of apparently unpromising material, efficient and useful men."
Mr Thomas said the ship's annual report from that year showed the photos of five boys who went on to military service in what would become World War One.
He said: "The most striking thing is how young looking they were after four years of service.
"We all know what was facing boys of that age at that time. We know what services these boys joined. It would be interesting if anybody could tell us what happened to them."
HMS Clio was scrapped in 1920.