Merthyr children start smoking 'at average age of nine'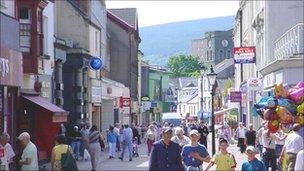 The average age at which children start smoking in Merthyr Tydfil and the surrounding area is just nine, according to Wales' clinical smoking prevention group.
One child started before he was three after his grandparents thought it was funny to give him cigarettes.
The figures come as people are being urged to quit the habit as part of National No Smoking Day.
The average age of taking up smoking across Wales is closer to 12 years old.
Tougher steps covering the sale and promotion of tobacco products are due to be unveiled by UK government ministers later on Wednesday.
The smoking cessation service at Prince Charles Hospital, which gathered the data, said there were good "no smoking" campaigns in schools but they were not getting through to children.
Tracey Bowen, clinical nurse specialist at the hospital, said the clinic started due to the high number of smokers in the area.
"The average of the all ages [of people starting to smoke] came out as nine," she said.
"Unfortunately it is realistic. We have lots of good campaigns going on in schools, educational campaigns, but it does not seem to be stopping children trying smoking or starting to smoke.
"I had a patient who did start when he was between two and three.
"His grandparents gave him cigarettes because they thought it was funny and amusing."
Last month the assembly government unveiled plans to dramatically reduce smoking levels in Wales with the ultimate goal of a "smoke-free society".
It said playgrounds and all NHS property could be made smoke-free zones as it aims to reduce smoking levels to 16% by 2020.
Meanwhile, chief medical officer Dr Tony Jewell has said he wants to start a debate on banning smoking in cars carrying children.
About a quarter of adults in Wales smoke.
Related Internet Links
The BBC is not responsible for the content of external sites.