John Davies and Rhian Jones jailed for pensioner fraud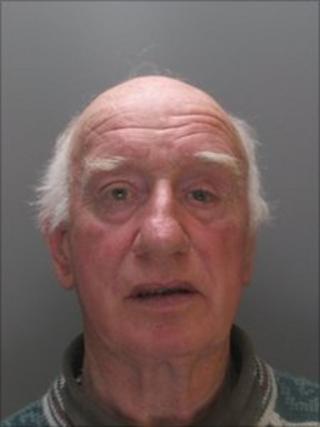 A couple have been jailed for defrauding £116,000 from vulnerable pensioners in north Wales.
Builder John Leslie Davies, 66, was jailed for four-and-a-half years while Rhian Jones, 49, received two years.
Mold Crown Court heard one victim lost more than £90,000 after Davies won power of attorney over her affairs.
The judge said the pair from Waunfawr, Gwynedd, preyed on their victims "for the sole purpose of personal enrichment".
The court heard the couple befriended elderly women from Llanystumdwy, Pwllheli and Abergele - aged 80, 75 and 74 - took money from them, and charged them exorbitant prices for work on their homes, some of it unnecessary.
The pair went on foreign holidays and cruises with some of the proceeds, the court heard.
Prosecuting barrister Simon Medland said that over a period of five years, the couple "lived an essentially tax-free, cash existence and accumulated significant sums of money by dishonestly pretending to do repair, renewal and building works at the homes of elderly, frail often confused people".
Mr Medland said Davies had defrauded one victim out of nearly £95,000 "by a toxic mix of charm and threats".
Jones denied being involved and claimed Davies was simply a lodger, saying she had no idea about joint bank accounts in which thousands of pounds were deposited.
But Mr Medland said she played an "important and significant role" in helping partner Davies in his deceptions, uncovered following a complex investigation.
Davies pleaded guilty to 18 charges of fraud, theft, concealing criminal property and procuring the execution of a valuable security by deception.
Jones had denied five charges but was unanimously convicted at a trial in December.
Judge Niclas Parry told them: "The word despicable cannot begin to describe your truly appalling conduct in this matter.
"Over a period of between four and six years you systematically set about targeting and defrauding elderly, disorientated, confused and mentally fragile victims."
The court heard how both had previous convictions, and Davies, now awaiting heart surgery, had previous convictions for 73 offences.
A hearing under the Proceeds of Crime Act will take place in June.