Referendum law-making powers start after May election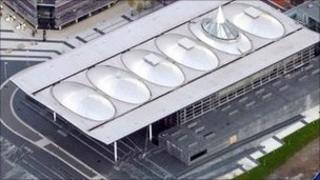 The increased law-making powers given to the Welsh assembly by last week's referendum are due to start after May's election.
Voters resoundingly endorsed an increase in the assembly's powers when they went to the polls.
First Minister Carwyn Jones said the Yes vote would change the relationship with Westminster.
Mr Jones said an order to activate the assembly's new powers will be debated in the Senedd on 29 March.
It needs the support of a majority of AMs for the new powers to start on election day - 5 May.
From then on, the assembly will no longer need parliament's approval to pass primary legislation in the 20 policy fields that are devolved to it.
Presiding officer Lord Elis-Thomas sparked a row at the weekend when he said the Wales Office should be wound up - "the sooner the better".
The first minister said the nature of the relationship with the Wales Office would change because it would no longer handle Cardiff's bids for law-making powers.
"It wouldn't be the first time there has been discussion on this issue and I'm sure the discussion will continue over the next few months," he said.
He said "careful thought" had to be given to how Wales was represented in Westminster and Whitehall.
'Easy option'
The "easy option" of one Whitehall department for Wales, Scotland and Northern Ireland might not work, he said. Wales and Scotland had different interests in the way their devolved administrations were funded.
The assembly government's focus was on the "technical issues that need to be taken forward" so the assembly can use its new powers.
On Monday, Deputy First Minister Ieuan Wyn Jones said it was "difficult to justify" having separate Cabinet secretaries for Wales, Scotland and Northern Ireland.
Briefing reporters with the first minister in Cardiff Bay, Ieuan Wyn Jones said: "As far the government is concerned we have now to put into place those things that are necessary to deliver on the result of the referendum.
"There will be issues which political parties will make clear where their positions are in relation to the next assembly."
With the electorate voting Yes to a more powerful assembly, the Plaid Cymru leader said the government had "delivered a key plank of our coalition".