Plaid accuse Labour of letting school standards slip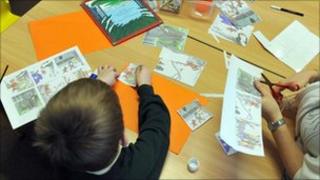 Plaid Cymru has criticised Labour's handling of education policy within the Welsh Assembly Government run by the two parties.
Plaid education spokeswoman Nerys Evans said a shortfall in funding per pupil between Wales and England was "appalling".
She pointed out that Labour has held the education portfolio since going into coalition in 2007.
But Labour reacted by accusing Plaid of scoring a "spectacular own goal".
In a speech in Cardiff, Ms Evans described Labour plans for a new grading system for schools as "an insult to our intelligence".
The comments are the latest sign of growing unease between Labour and Plaid as May's assembly elections draw nearer.
Education Minister Leighton Andrews has responded to critical reports with the promise of sweeping changes to the education system, including grading for schools. He has said people need information about how schools perform, but it will not mean a return to league tables.
Worldwide tests on reading, maths and science last year showed Welsh 15-year-olds falling further behind and were ranked below average.
In January, schools inspection body Estyn said standards in nearly a third of schools were not good enough, and a funding gap between councils in Wales and England is an average £604 per pupil.
But Ms Evans, her party's policy director, said that despite successes - such as the foundation phase and Welsh baccalaureate - many children lack basic skills.
'Things need to change'
"Standards are slipping. Our national performance in worldwide tests is dropping. Things need to change," she said.
"How did Labour allow standards to slip so far? They have been in government for more than a decade - what have they been doing?"
Outlining her party's policies for May's election, she promised Plaid will "take a fresh, clear look at our education system. We'll get the basics right."
A pledge to "go back to the beginning" will include a look at the school day, term times, funding and core subjects.
A Plaid literacy plan will teach children to read using a phonics system. Eight-year-olds will get one-to-one tuition if they cannot read to the expected standard.
Mr Andrews said: "This is a spectacular own goal by Plaid Cymru.
"For the past four years Nerys Evans and Plaid ministers have voted in favour of each successive education budget, presented by the One Wales government in the assembly."
He said education spending would be raised because of a personal commitment by First Minister Carwyn Jones.
"On the issue of the grading of schools, Nerys is either unaware or has forgotten this was an announcement made on behalf of the One Wales Labour / Plaid Cymru government," he said.
"Nerys likes to claim credit on behalf of Plaid Cymru, for every announcement made by Labour education ministers that she approves of. She can't have it both ways."