Labour split on coalition as Hain attacks Plaid leader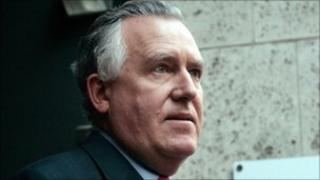 Shadow Welsh Secretary Peter Hain has branded Plaid Cymru leader Ieuan Wyn Jones, Deputy First Minister in the assembly government, "ineffective".
But First Minister Carwyn Jones stressed he was in charge of Welsh Labour and defended his colleague in the Labour-Plaid coalition cabinet.
It follows comments by the Plaid leader about the future of the Wales Office.
Mr Hain said it was difficult to justify having someone "as ineffective as Ieuan Wyn Jones".
It is Mr Hain's second dig at his party's coalition partners in as many days.
In a statement issued by the Welsh Labour press office on Monday, Mr Hain said that after last week's Yes vote in the referendum that "people are now asking 'what is the point of Plaid Cymru'?"
Mr Hain has now said: "Ieuan Wyn Jones wants a discussion that goes wider than the future of the Wales Office.
"I think we need to have a mature debate about the future role of the Welsh Deputy First Minister.
"Can you really justify having a Deputy First Minister in an assembly cabinet of only nine?"
He added: "It is difficult, I think, in the long-term to justify having a Deputy First Minister in the Welsh Assembly Government as ineffective as Ieuan Wyn Jones."
Both the first and deputy first ministers were asked about Mr Hain's attack when they appeared together at the Welsh Assembly Government's weekly press briefing.
Carwyn Jones said: "Those are Peter's comments. These are not comments that are issued by the government.
'Competing for votes'
"Ieuan and I know that over the next few weeks we will have to think about how we manage the process going up to the election on 5 May. We know that all parties will be competing for votes during the course of that time.
"I don't have any ineffective ministers in my government."
Asked about Mr Hain's role in the election campaign, he said: "I am the leader of the Welsh Labour Party. I anticipate leading the campaign into the assembly election, so it's my role of course to speak on behalf of the party."
The first minister later released a joint statement with Mr Hain saying voters wanted to hear Labour's plans for jobs and policing.
"This is what we are focusing on and will continue to focus on until 5 May," he said.
They added: "The blunt truth is that although there are four parties in Welsh politics, there are only two futures for Wales. A country that is fair and equal with Labour, or a Wales that faces death by a thousand Conservative and Lib Dem cuts."
'Slap-down'
Ieuan Wyn Jones has said Labour and Plaid will need to discuss how they part company to fight the election campaign after four years in coalition.
Last month the Plaid leader reacted angrily to anonymous briefings against him from critics in the Labour Party.
The Conservatives' leader in the assembly, Nick Bourne, said Carwyn Jones's comments were a "public slap-down" for Mr Hain.
Plaid MP Jonathan Edwards said: "There is clearly a power struggle ongoing within the Labour party in Wales and Mr Hain is out of control."
Liberal Democrat AM Peter Black said: "There will be many people who are now confused about who speaks for Welsh Labour - Peter Hain or Carwyn Jones."